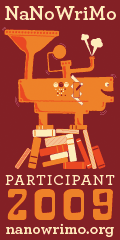 I think this is the first year that NaNoWriMo has pretty much snuck up on me. It's October 28th, you say? Seriously?
It likely doesn't help that we've had a lousy rainy sort of October around here, so it hasn't felt as festive as usual. I have had my Pumpkinfest beer at the Salem Beer Works several times, though, so that's something.
But anyway, October has flown in rainy (occasionally snowy) quickness and now it is very nearly November, and November is National Novel Writing Month.
For those of you unfamiliar with the phenomenon, the goal of NaNoWriMo is to write 50,000 words in 30 days. You can read all about the wonderment that is NaNo on their website.
This is my seventh NaNoWriMo. I'm really not sure how that happened. I've won every year except my first try, and I blame that on not really knowing what I was getting in to and being overly invested. I went in with a story I'd been trying to write for almost a year, I got annoyed when it wasn't as good as I wanted it to be, and I gave up around 15k. The second try I went in with no expectations and reached the mythical 50k mark fairly easily.
The novel that was just revised and sent back to agents started life as a NaNovel in '06. The current version bares a very slim resemblance to that 50k, it's been revised many, many times since then. (I actually cheated a bit and continued in '07, so I had 100k to work from. Bad me.) One of my major characters doesn't even appear in the NaNo drafts.
Which is why I find it kind of baffling that people think NaNoWriMo is about starting & finishing a novel that is "done" on November 30th. It's not, in my opinion. It's about writing a draft of a novel. Writing it in a condensed period of time with a deadline that makes it easier to shut up the inner editor and just write write write.
And then you can see what you have and start revising it into something resembling a novel.
For me, NaNoWriMo is about exploring and discovering. I've never started a NaNovel with more than a handful of characters and a vague plot concept. And that's the way I like it, because it allows for possibilities. Anything can happen! It's an adventure! You don't even have to leave your house, all you have to do is type. A lot. But you have to type a lot to find things. There are things that you find at the 30k level that you won't find at 10k. It's like creative excavation. The deeper you go, the more interesting artifacts you find.
I still haven't dusted off NaNovel '08. I love it, but it needs a lot of work. It didn't really find its plot until the 40k mark, so there's a lot to polish. But I have a lot of story there to work with that only took me 30 days to get down on the page. And it'll get there.
For NaNovel '09 I haven't had much time to plan. Not that I ever do a whole lot of planning. But I have a handful of characters and a vague concept, so once I stock up on red wine and chocolate I should be all good.