This is what a book tour looks like in ephemera. In boarding passes and train tickets and accidentally retained visitor passes.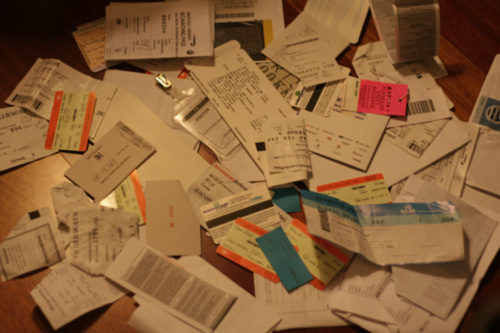 That's not even all of it.
I am in something that I could probably call Tour Recovery Mode right now. It mostly involves looking at all the stuff that has been neglected in my absence, from several email inboxes to that not-a-novel-yet to the newly-home fluffy cats and not having the mental capacity to deal with any of it. I'm feeling really guilty about it, too, but it seriously took all my energy just to make myself gluten-free pancakes with strawberries this morning and I have been trying to write this blog post for three days. Make that four days, pancakes were yesterday. Also it's dark at 4pm lately and that makes me extraordinarily sleepy.
Speaking of extraordinarily sleepy, Tessa is in love with the faux-fur blanket I got to warm up the sofa. Maybe because she so nicely color-coordinates with it.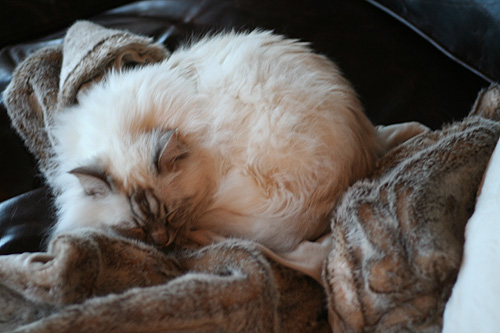 I'm exhausted. I thought after a few days of sleeping in my own bed and not having to be on airplanes I'd feel better but I'm still exhausted. I think I feel worse, actually, that whole object in motion stays in motion thing, and that object in motion suddenly taken out of motion feels dizzy and nauseous.
I'm not sure what I really want to say in this post. I'm not sure I'm coherent enough to say anything, really. Here, let's have some points in something resembling an unnumbered list, because I can totally not handle lists with numbers right now.
If you are waiting to hear back from me about anything, please be patient. I am only one person with a very overwhelmed brain.
My brain would be overwhelmed even if I were only dealing with book stuff and nothing else, but I have a lot of other things going on requiring brain time right now. A lot. I will spare you the gory details but I think the internet already knows I'm getting divorced and that's just one of the non-book things. Life has a way of happening all at once.
I straighten my hair nearly every day and yet I still managed to burn my ear on my straightening iron this morning. This is likely indicative of how I'm doing right now.
I would really, really like to be able to write now that I'm a real writer and all, but it is baffling how many non-writing things are involved in being a writer. I did look at the novel-in-progress today and it didn't look half-bad considering the unfinished messy draft stage it's in, so that's something.
Okay, I can't handle any more list things. I think my attention span has taken a vacation with my short-term memory. I hope they're somewhere warm with umbrella drinks.
I should probably wrap up this post before my typing skills and ability to form sentences decide to join them.
To those still NaNo-ing, I raise my coffee to you in a caffeine-driven salute for these, the Final Days. If you've already won: Congratulations!!! You rule. If you haven't yet crossed the finish line: You can do it, you still have time! If you've already thrown in the towel: It's okay, and remember you wrote more this month than you might have otherwise. Also, remember where you put that towel because a towel is the most massively useful thing you can have.
I am working on a proper post about writing-related things to cover some of the more frequently asked questions of late. It's like a baby step toward having a proper FAQ. And I will have more tour musings eventually, possibly with photos if I can figure out how to get them off my old phone.
For now I am going to give up on figuring out what to title this rambling ramble of a post and actually post it.