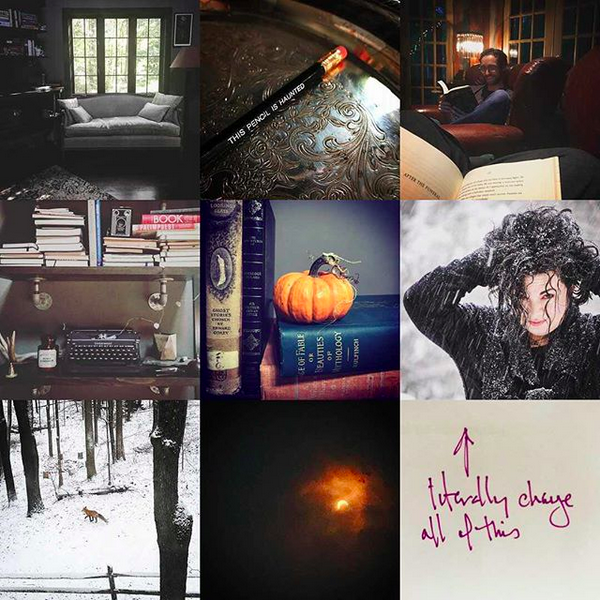 Oh, 2017. You were a year.
I'm not even sure where 2017 went. It seems like it was just snowing and now it's snowing again. Perpetual winter though I'm pretty sure there was a summer in between.
The still-new house is more house-like, more us and more lived in. There are still places missing furniture and oh so many cardboard boxes in the basement with the mice but it is cozy and currently there is a fire burning in the fireplace and cocktails on the coffee table and snow outside and stars and it is a wonderful, wonder-filled place to be.
It was a mostly-at-home year but also this year I floated in a perfect sunset-lit pool in Florida and stood in complete cave darkness in Virginia and went on a very cold perfect date night in Toronto.
I got a haunted pencil.
I watched an eclipse and made friends with a butterfly and finally bought a bottle of Yellow Chartreuse.
I finished yet another draft (two, actually) of this thing that will someday be a book. Someday.
It's getting there. I think. I hope. I sort of know. Insert metaphor about baking or sailing dark seas or something else here. It has been a forward motion year even though I spent most of it standing still, staring at computer screens and trying to make the words work. January will be a locked away in that world month and then I'll see what happens on the other side.
2018 should be interesting.
Annual review of media things, 2017 edition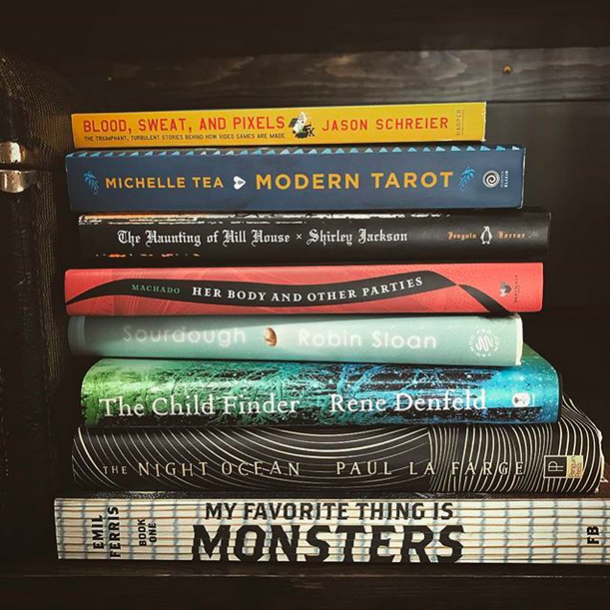 Books
This was a writing year more than a reading year but I did manage an eclectic list of favorites:
Blood, Sweat & Pixels – Jason Schreier
Modern Tarot – Michelle Tea
The Haunting of Hill House – Shirley Jackson
Her Body and Other Parties – Carmen Maria Machado
Sourdough – Robin Sloan
The Child Finder – Rene Denfeld
The Night Ocean – Paul La Farge
My Favorite Thing is Monsters Vol. I – Emil Ferris
Games
I love this game with a love that is pure & true and knows no bounds. (Adam gave me a Funko Aloy for Yule which is my first & only Funko.) Still haven't played the Frozen Wilds DLC, saving it for a snow day treat but I'm sure we'll be in for a lot of snow days in the coming months.
I still think about moments in this relatively short game months after we played through it. It's full of brilliant gaming moments and brilliant storytelling moments and I'm waiting to revisit and replay it.
Only about halfway through this one but loving it so far.  I'm not usually an Assassin's Creed person but I've had a thing for ancient Egypt ever since I was little (thank you, The Egypt Game) so even just running around this gorgeous game is a delight plus it has everything I love about an open world and I get to shoot hippos.
Also when had a terrible cold I played Cat Quest on my iPad and it made me feel better.
Movies/TV
We still don't have proper cable or internet so this category is light as usual. Favorite movies I saw this year were Wonder Woman, The Last Jedi & Get Out.
I'm still anxiously awaiting a chance to see The Shape of Water. Hopefully soon.
The only TV I've been watching is The Great British Bake Off, over and over and over again. That probably says something about my 2017 mental state. It's soothing and full of things I can't eat and I love it.
Music
This year I listened to Vaults and Arcade Fire and ODESZA and the Baby Driver soundtrack and the new Taylor Swift but with Look What You Made Me Do edited out. I've also kept the Skyrim Atmospheres track from the Skyrim soundtrack on repeat as background in my office a lot lately.
This is the other song I had on repeat this year. Not sure why, it just sounded right.