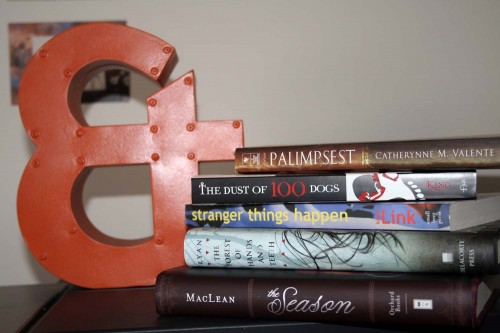 I am in more of a reading mode than a writing mode lately, though I am attempting to switch back and forth. Reading often puts me in a writing mood, which is helpful.
This is my current reading pile, more or less. I have some random nonfiction things floating around but this is the fiction stack, all in various levels of just finished, mid-way through or haven't started yet. It is both YA heavy and entirely female authored, huzzah.
Here, links and info since books are fun to press on other people. From bottom of pile to top which is essentially in no particular order:
The ampersand I found in the clearance corner at Pottery Barn this weekend. I may paint it, though the orange is growing on me. It is also begging to be photographed in the wild, combining all manner of unsuspecting subjects.
Am mostly drinking tea and trying to write, now that I have my painting obligations out of the way. I'd ideally wanted to finish my edits by the end of the month, which now seems unlikely. But I needed some mulling time, and it's spring and there's a new moon in a few days, so it is probably a good time to be getting things done.