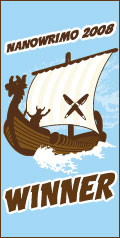 I reached the 50k mark for my NaNovel on Saturday. It's the earliest I've ever hit 50k in six years of NaNoing, so that's something of an accomplishment. I'm at 53k now and I still have quite a bit to go before this draft is anywhere near done, but that's ok.
I think one of the things I like about NaNoWriMo is that not only does it give you a deadline, which is magical, but it gives you bragging rights and fun icons. It is like getting a gold star in kindergarten, it is simple but extremely happy-making. I cannot even say how much I adore the Viking theme of this year's winner icons. They are extra special triumphant.
I enjoyed this NaNo more than some previous years. Maybe I just hit upon the fact that I am especially loquacious when writing in first person (though only part of the novel is in first person, those parts did go very fast) or maybe I've just had a lot of practice, but I didn't hit the "I hate my novel" phase this time around, as I usually do somewhere in week three. I had plenty of phases where I wasn't sure where everything was going (I'm still not sure where everything is going, actually) but nothing that made me want to give up entirely.
I am going to keep writing, I want to see how much I can get done before the end of November since there are still several days left. I am, in a general sense, getting better at finishing what I start and I think for the writing side of that NaNoWriMo has been invaluable. I suppose I have Chris Baty to thank for that, so thank you Chris. You are a Viking in the best of literary Viking ways.