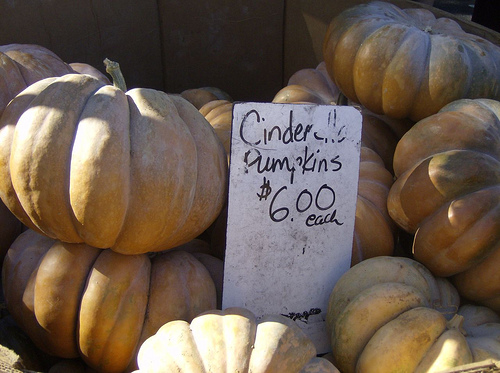 cinderella pumpkin
As soon as I read the sign and saw what the pumpkins were called I knew I had to have one.
My mom said no. She said they don't make good jack-o'-lanterns.
"But they're Cinderella pumpkins!" I explained. "They're not for carving, they're for turning into coaches to ride to balls at castles."
Sometimes I worry that my mom is not so smart.
I had to beg, but she let me take the best one home.
I left it on the lawn next to the dressed-up-like-a-ghost lamp post so I can see it from my window.
After mom went to bed I put my princess dress and fancy shoes on, and now it's almost midnight.
My Cinderella pumpkin is getting bigger.
About flax-golden tales. Photo by Carey Farrell. Text by Erin Morgenstern.