Massachusetts has welcomed me back with hair-frizzing humidity & pouring rain. I think it might be mad at me.
But other than the weather it is a lovely (if short) respite from living out of my suitcase. I had a fabulous event at Odyssey Books near my old Western MA collegiate stomping grounds on Thursday night, and last night was the kickoff of the Salem Literary Festival which was splendid, and I left with a new friend: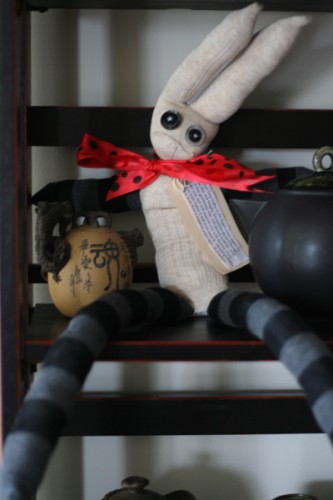 He is delightful and huggable and his informative tag says he enjoys long walks on the beach, cozy nights by the fire, and lengthy discussion about Chaucer. I love him. He needs a name, but I'm still pondering something properly dashing. He was made by the lovely & talented Hilary Emerson Lay, who also has fantastic hair.
Back in Salem tonight and then off for a very brief stop in Baltimore tomorrow. I'm actually doing laundry right now and I am far too excited about that.