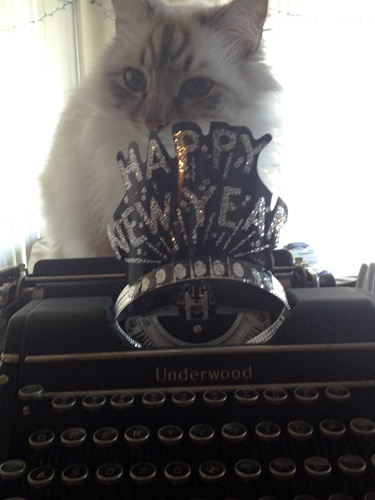 So far 2012 has been cold. I always want to hibernate this time of year, post-holidays and winter chilled. Curling up in cups of coffee and trying to get the hang of a brand new year, though I also like to think of this time of year as a trial period, an in-between time before Chinese New Year arrives and the Year can be New all over again, and dragon-y as well.
It's quiet here in these last year of the bunny weeks, which I need. Time off is not really time off when caught up in a rush of holiday stuff. I am cleaning my apartment and hiding from the cold outside. Slowly catching up on long neglected correspondence and apologizing to the patiently waiting books on the ever-growing to-read shelf. I am considering taking a week off from the internet next week, I'll see how I feel on Monday. I am feeling extra thoughtful but the thoughts are all floating snowflake thoughts, drifting through my brain and not settling on anything.
Maybe I should just let them drift.
These are my January event dates, as far as I know. I'll update any missing info when I have it.
Sunday, January 15
2:00-3:00pm Newtonville Books/Reading & Signing
296 Walnut Street, Newton, MA.
Tuesday, January 24
7:00pm Joseph-Beth Booksellers/Reading & Signing
2785 Dixie Hwy Crestview Hills, KY 41017
Wednesday, January 25
7:00pm Joseph-Beth Booksellers/Reading & Signing
161 Lexington Green Circle, Lexington, KY 40503
Thursday, January 26
6:00pm reception Salon@615 Series/Reading & Signing
6:30-7:30pm program Nashville Public Library,
615 Church St, Nashville, TN
Friday, January 27
7:00pm Foxtale Bookshop/Reading & Signing
105 E. Main Street, #138, Atlanta, GA 30188