I am in NYC at the moment, but on Monday I spent the day being herded around eastern Massachusetts to sign stock at several different bookstores. So if you would like a signed paperback of The Night Circus they can be found at:
Harvard Books in Cambridge
Porter Square Books in Cambridge
The Concord Bookshop in Concord
Willow Books in Acton
Wellesley Books in Wellesley
and the New England Mobile Book Fair in Newton Highlands.
And I imagine most if not all of these stores would be willing to ship them if you called & ordered.
I of course did not get through all of those stores without a bit of book shopping, even though my to-read pile is absurd at this point. Also, socks.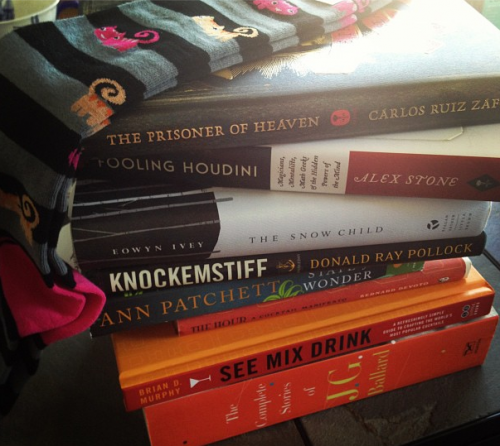 And this evening I shall be at McNally Jackson Books in conversation with Lev Grossman. I am not entirely sure what we will be conversing about. Possibly books or writing and very likely Harry Potter. Actually probably mostly Harry Potter.