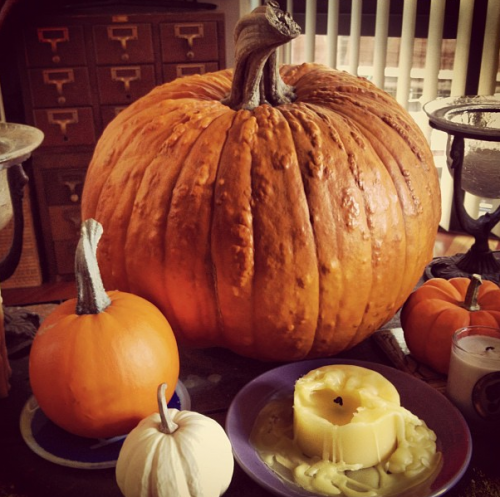 This is the aforementioned fantastic pumpkin that I did not yet have a photograph of when it was mentioned afore, and now I do and you can see what a fantastic pumpkin it is. Also pictured are some pumpkiny friends and a very melty beeswax candle.
The fantastic pumpkin may possibly become a jack-o-lantern but might stay intact and pumpkiny instead.
Partially because the pumpkin will be alone (well, alone with pumpkin friends) for Hallowe'en because I shall be in London. And an unlit jack-o-lantern on Hallowe'en is sad. But my October 31st shall be spent far away from this particular pumpkin reading/conversing/looking fabulous with Audrey Niffenegger at The Prince Charles Cinema. If you are in the London area you should come and wear something dark and decadent and we shall endeavor to be moodily entertaining. I still need to figure out what to wear.
After I get back on this side of the pond I will be heading to Minnesota for Talking Volumes in St Paul on November 9th. You can get tickets on Ticketmaster and I find the fact that you can get tickets for anything involving me on Ticketmaster is strange, though it should be unlike most of my own personal Ticketmaster experiences of refreshing like mad in order to procure tickets to Tori Amos or Florence + the Machine. Perhaps it only works like that for redheads. (Edited to add: I am told you can avoid Ticketmaster entirely and get tickets directly from the Fitzgerald Theater by phone or in person. Remember phones?)
And post-Minnesota I am heading to Toronto for a Read for the Cure event with Vincent Lam and Audrey Niffenegger on November 13th. (I think this season shall live in my memory as the autumn I spent with Audrey Niffenegger.)
And after that I think I am done with airplanes for 2012 which will make me very happy. Also I should be able to hibernate this winter and write a novel, which will be splendid, because the not-yet-novel-shaped thing in my brain badly wants attention. There's a zombie analogy here I'm not finding, but you probably know what I mean.