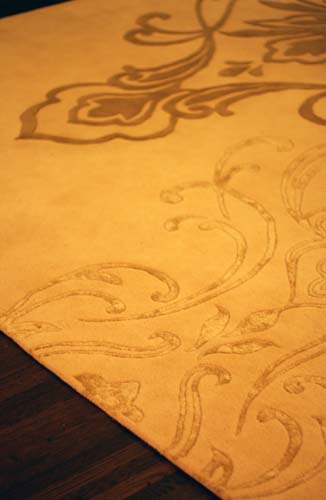 This is the aforementioned tarragon and bone rug. Technically it has three different colors, though, so I'm not entirely sure what to call the pale pale shimmery green, as I'm guessing the darker one is tarragon and the background is bone.
The internet tells me that the word tarragon derives from something French for little dragon, which I like even if it's not necessarily true just because the internet said it was.
But the fact that my living room floor is covered in swirls of little dragon herb green is rather fun and quite comfy.
Have yet to determine if it goes with the teal chairs, since the teal chairs have yet to arrive, but it blends well with everything else, so that's something. I forgot how long it takes to sink into a new home, especially since I never properly sunk into the last apartment because I was travelling so much and also there was construction outside my windows that started every day at 7am which did not make it particularly cozy or relaxing.
I am likely the only person who has ever moved to Manhattan and delighted in how quiet it is. Comparatively.
I am assembling a puzzle of cozy homeyness and I don't quite have all the pieces yet, but it's getting there. I have books on shelves and I'm starting to hang things on walls and it feels warm despite the fact that it is far too cold outside.
I'm getting to know the outside, too, though slowly because it is cold. Discovering corners to linger with cocktails and delicious food, trying places on to see if they will become regular haunts. Though the at-home comfy is taking precedence over the outside comfy for the moment.
I found a place to buy loaves of freshly baked gluten-free bread so I can cut the slices as thick as I like (and then cover them with goat cheese and fig spread). I am in love with the fact that anything, anything can be ordered and delivered to your door here, and particularly delighted that sushi arrives in 15 minutes as opposed to the almost-hour that was standard in Boston. Though I suspect almost-instant sushi could also be dangerous.
I'm still unpacking. I just unpacked the rest of my shoes yesterday and half of them are still in a pile in the closet. Most of my office is still in boxes. The "catch up on email" that was near the top of the to-do list for January is still nowhere near to being crossed off despite the fact that January is slipping away.
At this rate I'm just hoping I'll be through with the cardboard boxes by the time February shows up.
But I'm cozying up the writing cave, so I can spend most of February and March working on that not-yet-novel shaped thing my brain has been itching to get back to, though over the last while it was often too busy being tired to itch.
I think letting it sleep past 7am and not waking it up with beeping and crashing and jackhammers has helped. It's feeling somewhat well-rested and it's starting to get itchy again and I actually have a desk chair now, so that should be nicely writing conducive.
The fact that the calendar has little on it beyond writing and home-creating is delicious and delightful, and I can only hope that the writing goes as comparatively smoothly as the decorating has so far, building a new space piece by piece.