I have a cold. It's mostly gone, down to a lingering cough, but I spent most of the last week preoccupied with being good and thoroughly ill, which was not so fun. I drank a lot of things that involved ginger and honey and whiskey.
Before I succumbed to the Head Cold That Ate Tokyo, I did spend a wondrously lovely evening at The McKittrick Hotel's Valentine's Dance.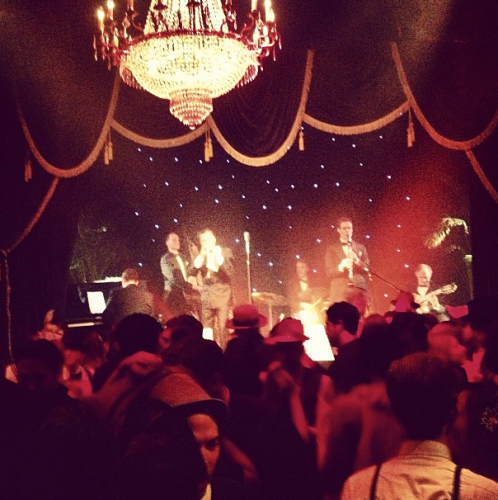 There was lovely music and champagne and dancing, of course, and during the Sleep No More portion of the evening I did indeed manage to see things I'd never seen in all my previous visits. And the jazz age attire required rule made everything a bit more surreal in a delicious time-warp way.
Now I'm trying my best to get back up to 100% healthy (I'm probably at 90% right now) and reading an advance copy of Kate Atkinson's upcoming Life After Life which is absolutely marvelous so far, though I'm only about a third of the way through.
Also I've been knitting since my congested brain hasn't been up for much. I'll post a picture of the scarf I've been working on for ages when it's finished, which could still be a while.
Still brain-fuzzy and tired but getting better. Still have Bei Mir Bist Du Schoen playing around the back of my mind.