So Bioshock Infinite came out yesterday and I am being really good today by not playing until I get everything else on today's to-do list checked off. I just got to "blog post" so here we go. It has a theme and some points, I promise.
I will preface this by (re)stating that I'm not much of a gamer. I am picky about games that I like and I am not widely versed in all the video game wonderment that is out there, but I have dipped my toes in and splashed around in my not-terribly-skilled way. (I remain annoyed that you can't marry the Khajiit characters in Skyrim, do I at least get some sort of geek credit for that?)
To make everything ever somehow relate to Punchdrunk: I first became acquainted with Bioshock when I heard Sleep No More referred to as "live action Bioshock" which is a fairly apt description for something that's almost impossible to describe. I've been waiting for Bioshock Infinite since 2011 when the first trailer came out, even though aesthetically the first two games are much more up my art deco alley, because floating city = swoon.
This brings me to my (first) point: I love this entire series largely because I am overly fond of architecture. The level of detail is amazing and I seriously spent about two hours playing Infinite yesterday and I'm barely past the intro because I keep stopping to look at things. (I really wish you could play in spectator mode and not have to worry about, you know, shooting things or getting shot at, which I understand is the basis of the game but it can be distracting when I'm trying to look at windows and statues and figuring out how the building docking systems work.)
It is immersive visual world building on an epic, gorgeous scale and still being somewhat in the architectural world building phase of writing a novel it is giddy-making for my storyteller brain.
Which brings me to my main point, because this post needs to have one before I am allowed to scurry off and play more, about how much I learn about storytelling in non-prose formats.
I suppose it goes without saying that I read a lot of books which are inspiring for my own writing (see this post for a recent example and also another Bioshock reference) but I also watch a lot of movies and look at a lot of art and listen to music and lately, play games.
There is some really innovative storytelling technique going on in games and I find it almost as fascinating as the architecture. How information is relayed and how plots are advanced and learning how a world works through interacting with it.
(I kind of want to do a documentary film about immersive entertainment. Need to figure out how to conjure more of that time stuff first.)
I'm a very visual person so it helps to be able to see things so I can expand my own mental treasure trove of images to include more things to build with. I suppose it is the visual equivalent of expanding your vocabulary, creating a visual media dictionary.
And a step beyond the visuals, games and movies and graphic novels and, oh, I don't know, let's say, puppet theatre all touch on telling stories without words which is a useful thing to study and figure out how to do, even if you end up telling your own story with nothing but various combinations of letters and punctuation.
That's not to say that static visuals can't be just as nuanced and layered. Take this Shaun Tan print I just had framed: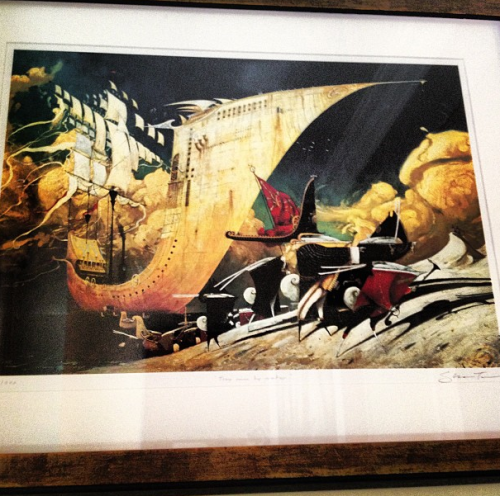 I know the context behind it because it's an illustration from The Rabbits by John Marsden, but even as a separate single piece it's full of detail and wonderment. And rabbits.
I'm losing my points here and instead of trying to pick them up I'm just going to throw them up in the air and let them fall in a visual waterfall of sketches and plush songbirds and inflatable presidents. I was going to include something more about graphic novels but maybe I'll make that its own post some other day. I also still owe a post about cocktails (next week!) and also when my storyteller brain is in full absorption mode it gets a little weird and spongy in my train of thought.
Also, this is why it is sometimes difficult for me to describe my writing process because there's so much stuff going on in here.