So last week the power of Twitter manifested Neil Gaiman's upcoming The Ocean at the End of the Lane.
I said this:
Also wondering who I have to make out with to get an advance copy of The Ocean at the End of the Lane and if I capitalized that properly.

— erin morgenstern (@erinmorgenstern) March 4, 2013
Truthfully I thought maybe someone at his publisher would have a spare ARC, and if I were lucky I'd get one in a few weeks.
Before the end of the day I'd played Twitter tag with publishing types in both the US and the UK and then one lovely person led to another and then the name "Neil Gaiman" turned up in my email inbox, so a couple of days later I had these: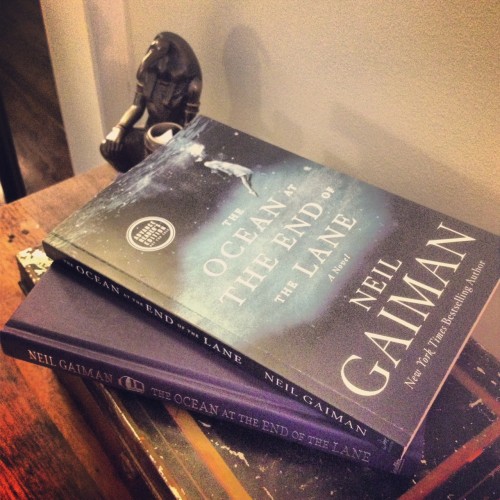 Top one is the US version (I love that cover) and the hardcover beneath it is a special edition proof from the UK. They are both beautiful and they are being treasured and petted and read.
I am a very, very lucky girl and I didn't have to make out with anyone, but if any of the lovely people who led to this want to take me up on that, that's totally cool.
I curled up with it over the weekend and I wasn't sure what to expect because I knew nothing about it. Read it in one sitting and loved it. As I said on Twitter afterward, it is soaked in myth and memory and salt water and it is so, so lovely.
It feels as though it was always there, somewhere in the story-stuff of the universe, and I'm glad Neil captured it on paper so well.
And it made me want to write again.
I've been working, sorting through notes and drafts and the last of the cardboard boxes, but I haven't really been doing much raw storytelling writing in that itchy to put things on paper way and this lit that spark again, which is impressive since it lit it with water.
And I got to email Neil Gaiman and thank him personally for that, which is delightful and yet more proof that Twitter is magic.
(I promise to only use the power of Twitter for good and books and not abuse it.)
So I have had oceans on the brain and then yesterday my teal chairs finally, finally arrived (they'd been held hostage in a warehouse and no one thought to call to arrange delivery until they were inquired about, several times) and they are even more gloriously teal and deco than I'd expected and I love them.
And they made me realize that my decorating concept is basically Bioshock.
I can think of worse decorating concepts than "underwater art deco city." And I like it, it's cozy. It's a flavor I can work in.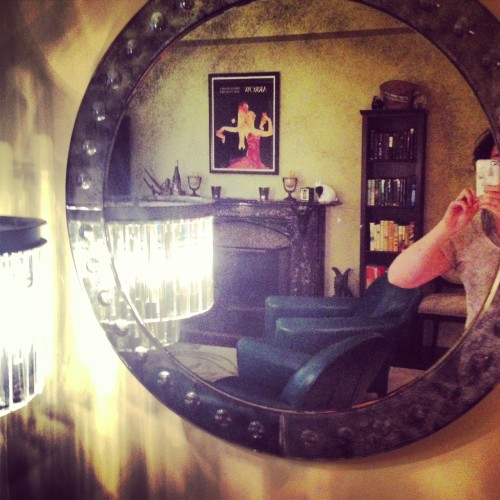 I'd been thinking about the new novel as an air and glass sort of thing, where the circus was very much paper and fire and earth. And it has been curled up near the sea but I hadn't thought of it as a water creature until now, and in its way it really is.
It's very much like figuring out the soup you are cooking needs more salt. It seems too simple but it's true.
It took oceans on the brain and teal chairs to realize it, even though I think it was there all the time.
Now that I've finally had the time to write I've been gathering up all my ideas and bits and pieces of scrawled drafts and I've been dipping my toes back in to get myself re-acclimated. I think I hadn't been sure what this story was or wanted to be and over the last week I've had a couple of those salt water epiphany sparks and while I don't know what it wants to be, exactly, I have a better idea.
I figured out over the last two years that while I can write little bits of things I can't develop a whole novel-world unless I can shut everything else out and live in that world. I need that full-on imagination submersion. And for various reasons I'm only now getting to the point where I can do that.
I'm remembering how to breathe underwater so I can properly submerge myself.
I know I have something here, and I want to get it right.