I've been a little bit obsessed with cocktails lately. I'd always been more of a red wine person with the occasional gin & tonic and I knew I preferred Manhattans to Martinis but I hadn't ventured very far into the often intimidating world of the cocktail.
I've been venturing for over a year now and I'm still pretty sure I haven't gotten that far, but it's been very fun and educational. I've found gorgeous speakeasy-esque bars and developed a thing for coupe glasses (if anyone knows where to find good ones let me know, I have a few I got from Pottery Barn that I love but they no longer have them, hrmph.) My favorite cocktail that I can actually manage at home with some decent flair is a Bee's Knees, a prohibition era concoction of gin, lemon & honey. (I have made something of a sub-hobby out of trying them with different gins and different honeys.)
(It is worth noting that in a strange sort of way this is all book research. If the circus with all its chocolate mice and Midnight Dinners was a food book, the new one is most definitely a cocktail book.)
(This post has too many parentheticals already.)
This is the first of what will likely be a series of cocktail-related posts as I continue to research and explore. I may include favorite recipes as we go on, but I have something fun for today.
A few weeks ago I discovered (via Twitter, of course) Julibox, which is something like a cocktail of the month club where you get ingredients and instructions for different cocktails sent to your door in a box full of boozy wonderment.
So of course I pondered for all of a few hours before I signed up. I got my first box (collection #7) in mid March.
Everything arrived gorgeously wrapped in pretty paper with matching stickers and I am such a sucker for an aesthetically pleasingly wrapped package that I almost didn't want to unwrap anything.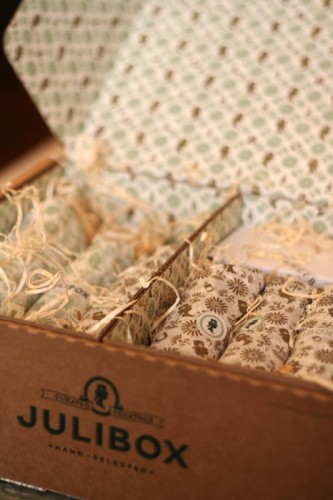 But I did, because cocktails.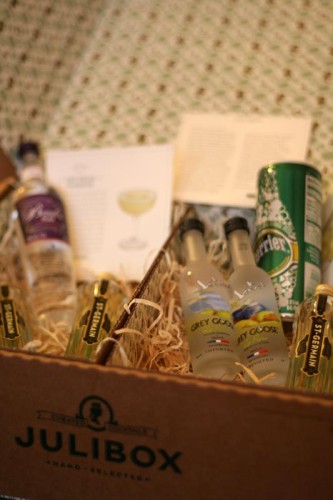 This month's collection was elderflower liqueur themed which meant lots of St Germain which was happy making because I love St Germain. I suspect I love it even more because it comes in the most beautiful bottles.
There are fancy, incredibly easy to follow recipe cards: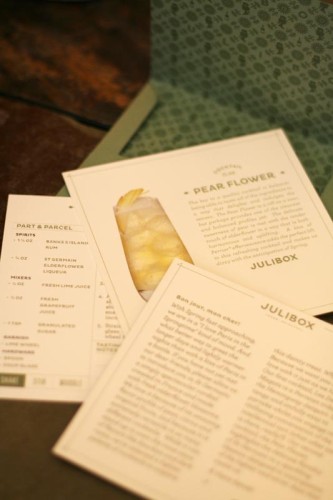 It includes 2 different cocktails and there's enough to make 2 of each. (4 drinks total.) They email you beforehand to let you know what you'll need that's not in the box, which was lime, lemon & grapefruit for this box. (I always have limes & lemons on hand but I did have to go out and get the grapefruit.)
Both of the cocktails in this box were lovely, one was a spin on a Hemingway daiquiri and the other was a lovely fizzy pear vodka concoction, and of course both had St Germain. I'd give the very slight edge to the fizzy pear one just because it was more in line with my tastes but it was wonderful to try something with light rum that was different than the rum drinks I've had in the past. (I tend to be a gin girl, I'm thinking this will be a good exercise in trying things I might not order off cocktail menus or create from my own bar.)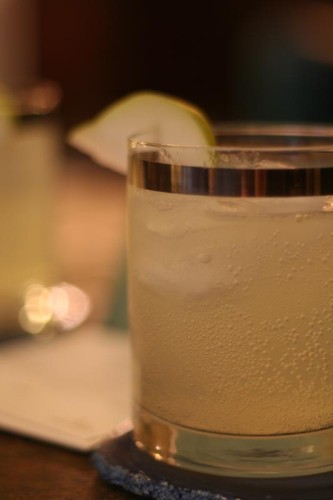 I'm already looking forward to next month and I can't wait to see what cocktail surprises are in store.