Erinland is on the road and not operating as usual this week, though Friday's flax-golden tale will be posted because of the magic of pre-scheduling things.
(Erinland is not on vacation, per se, just doing stuff that is not occurring in NYC. If all goes according to plan, proper vacationing will occur in October.)
So I will not be properly blogging* for about a week & I will be quieter than usual on Twitter. I will likely keep Tumbling things that I like on Tumblr at the same rate, which is inconsistently.
Here is a picture from the road, complete with my feet floating in the sky through the magic of reflection and light and glass and the fact that Adam doesn't mind my feet on the dashboard.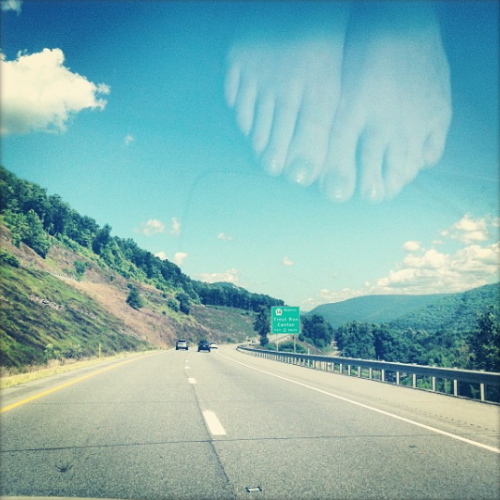 Will be back soon.
*this is a sorry excuse for a blog post and mostly just here to have something in between last week's flaxie and the next one.