I keep forgetting it is December, probably because I finished my NaNoWriMo-ness early this year.
I do hope all of you who NaNo-ed enjoyed yourselves, regardless of how many words you wrote, and I hope you're proud of yourselves because you should be.
All I really wanted to do myself was add 50k to this draft during November and I managed it in 21 days which was excellent timing because my last week of November was very busy. Look, word count graph!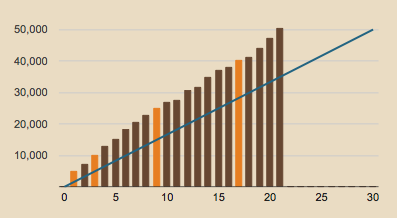 I do so love a word count graph. I should probably just make my own little motivational graphs to use all the time but I don't think it'd be the same. Maybe I'll just stick gold stars on things.
So the good news is that this draft is much longer than it was, the not so good is that it is still quite a ways from finding its end. It wants to be long. I am going to try to talk it into being perhaps just a little bit shorter once I find the end of it. It keeps looking at me and pouting and going "but I'm epic!" and then we have debates over the difference between epics and fairy tales and myths and regular old novels. It is consenting to becoming book-shaped, though. It is much more book-esque than it was even before November, and it is very much a winter creature so I have a feeling I will be sledding towards the end of this draft over the next few months and thus things will likely be quite quiet around here though I will do some annual end of the year posts.
I wish I could say more about the not-quite-book but at this point I can't, really. This point is still alchemy and ingredients and I'm not quite certain how the finished product will turn out, exactly, not enough to describe it properly.
But here, have two sensory hints about it, early winter holiday presents:
Right now the new book smells like snow and beeswax candles and leather and honey.
And it sounds like this, a peek at the beginning of the ever-changing playlist: