I am not much of a knitter. I like the actual rhythm of knitting, I love pretty yarn. But I don't absorb patterns well, so anything that requires a chart is usually too much for me.
Also, I'm a slow knitter. I've been working on the same scarf for the boy for about a year. In my defense, it is 1×1 rib on size 5 needles. It's gorgeous, but it is taking forever.
But I do finish things occasionally, and a couple weeks ago I knit myself another Calorimetry. I did one a couple years ago in this green Noro yarn that I had sitting around, but I never wear it since it doesn't match anything. So this one I did in this grey/pink Malabrigo called Pinot.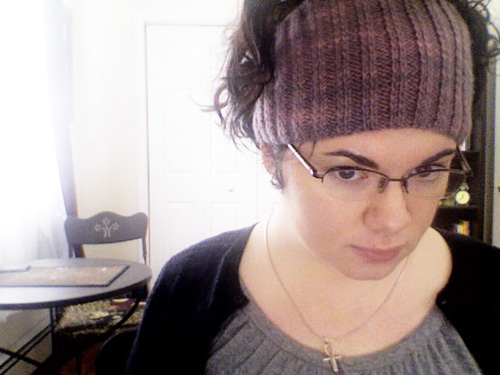 It's marvelous and it keeps my hair out of my face. I'm not one for full hats anyway (my hair is problematic, even at this length) so it is a good alternative headwarmer considering the never-ending winter wonderland. It's sunny today, at least.
Back to the boy's scarf again, knitting-wise. Someday it will be finished. Really.
In other news, I have e-mails to catch up on but my gmail is being cranky. I shall blame the full moon. I have Yorkshire Gold tea that I found at Whole Foods over the weekend and did a little happy dance in the tea aisle. I don't know if they had it before, I'd looked a few months ago and didn't find it, and this time it was hidden behind cinnamon sticks or some such. And I ordered a new tea mug, because I realized I didn't have a special mug for, well, not for anything in particular other than tea, I just thought it would be nice to have something handmade. I'll post pictures when I get it.
Editing today, and should be finished with my general editing within a couple of hours. I've been going through section by section doing minor edits and taking notes for major changes, and I'm on the last sections now. I have three that need overhauling and outlines for three or four additional ones. After that I think it should be done. It's been sort of tedious but I think I'm making it better and stronger (and longer) than it was. But I'll be glad when it's finished and I can work on something else.