We don't really have that much snow, but it's pretty. That nice fluffy white snow that we didn't get much of last year. I much prefer this to the ice & slush. Though it has made me realize that I need proper boots for snow, not sure what happened to my old ones.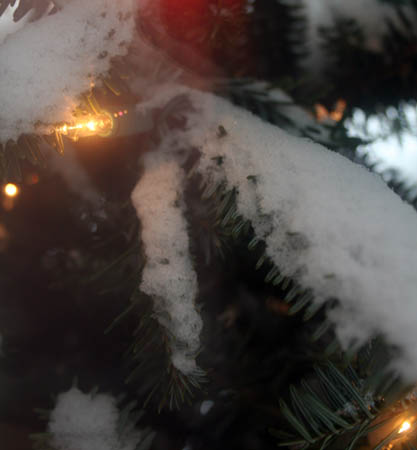 I spent most of the weekend (waiting for the snow and getting snowed on) reading Beautiful Creatures by Kami Garcia & Margaret Stohl on recommendation from my friend Liz. Remind me in the future to always take book recs from Liz, because she predicted quite accurately that I would dig this book, and I really did. It's a book to fall into and not come up for air for awhile and it's gorgeous. Moody and magical. Just in time to end up on my best of the year list, which I should probably write up sometime in the next few days before the year slips away.
Yesterday for Yule I made eggnog ice cream with an ice cream maker that has been in storage since 2001. It worked surprisingly well, considering, and eggnog ice cream is officially the easiest ice cream ever to make. Quart eggnog. 1/2 cup sugar. Splash of vanilla. Mix & dump in ice cream maker. Ignore for awhile. Come back and scoop out ice cream. Serve with gingersnaps. It's kind of awesome.
So for the rest of the week I have paintings to paint and revisions to work on and presents to wrap. But I have eggnog ice cream and snow and new incense to burn and beautiful new copper jewelry to wear. Feeling all wintery and hibernating.