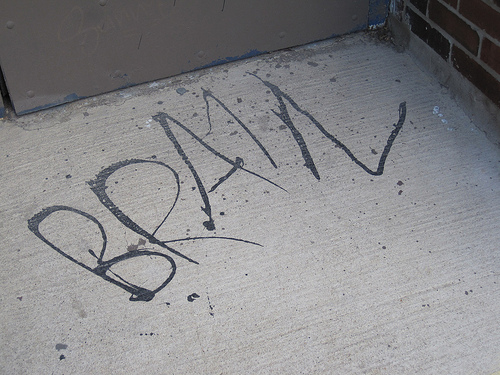 brain
The Brains didn't bother me, probably because I knew what they were.
But everyone else in town has zombies on the brain—so to speak—so I guess it's not entirely surprising that everyone's thoughts went in a brain-eating direction.
Also, it's October. I think October is prime zombie time. Paranormal creature season in general, even.
So when the word "Brain" appeared scrawled over pavements and doors and walls—some with exclamation points, others eerily lacking punctuation—everyone started yelling about zombies.
Impressively literate zombies.
I keep waiting for someone to figure out that my brother Brian is a self-centered lousy speller prone to defacing public property with paint, but they seem distracted with building barricades and stocking up on ammunition.
I should probably tell them.
I hope they take my word for it, since I can't find Brian anywhere.
About flax-golden tales. Photo by Carey Farrell. Text by Erin Morgenstern.