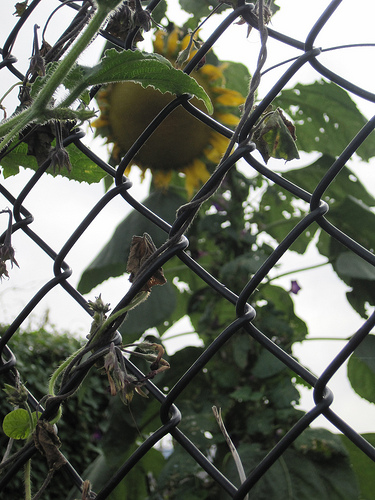 the last sunflower
They put a fence around the sunflower because it was the last one.
The point, I think, was to protect it so eventually there would be more sunflowers and when there were enough they would remove the fence but it's been years now and there's still only the one sunflower.
It blooms every year. It looked up at the sun back when there were still sunny days which I remember but my sister doesn't and sometimes she says she doesn't believe me. But she's skeptical about the sun in general because she's only seen it in old photographs and it doesn't really look the same in photographs as it did, or at least not the way I remember it did.
(My sister says the sunflower should have a different name now that there's no sun even though I've explained many, many times that the sun is there somewhere and we just can't see it.)
She comes with me to keep the sunflower company so it won't feel too lonely. We watch it through the fence and sing songs to entertain it and once we brought a lamp but the sunflower wouldn't turn to look at it, I think it knew it wasn't real sunshine.
The sunflower always just stares straight ahead and sometimes down.
We haven't figured out how to cheer it up yet.
About flax-golden tales. Photo by Carey Farrell. Text by Erin Morgenstern.