So tonight I was actually supposed to be in London but instead this afternoon I was virtually in London thanks to the wonderment that is Skype. It went fairly well even though it was very odd from my end because I couldn't see the audience and Audrey was a lovely disembodied voice, though I suppose it would have been weirder if I could have seen myself all giant and looming over everything.
Not to give too much of a peek behind the curtain, but I was sitting here and y'all were pretty much on my stove: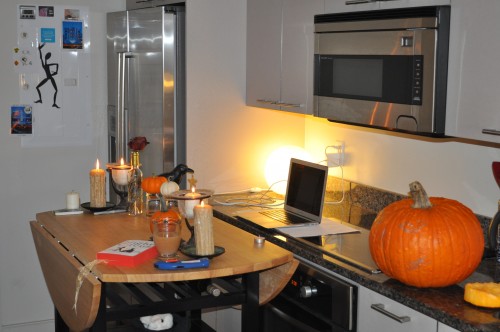 And I really did meant to carve my pumpkin but I got all distracted with the lovely conversation and I forgot. Which was good because when I did carve it afterwards it shook the whole table rather loudly and also it took me ages to carve even a fairly simple design so it was likely for the best.
Now it is all proper All Hallow's Evening here and I have wine which I will raise later in a toast to Herr Thiessen which I have done this evening for a few years now and I find it lovely that more people will know what it means this time around. Also there is chocolate and a properly carved pumpkin.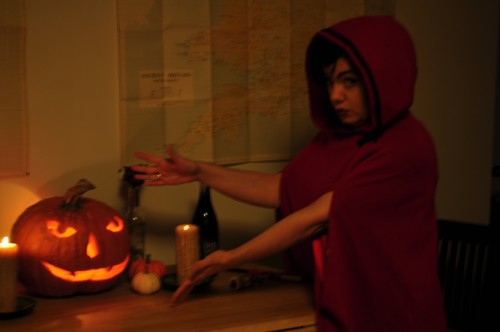 The cloak I am wearing is my favorite Hallowe'en costume which I am glad I got to wear since it wouldn't have fit in my suitcase as it is floor-length and rather heavy. (It was made, I believe, by a friend of my mother's sometime in 70's when such things were acceptable for everyday wear.)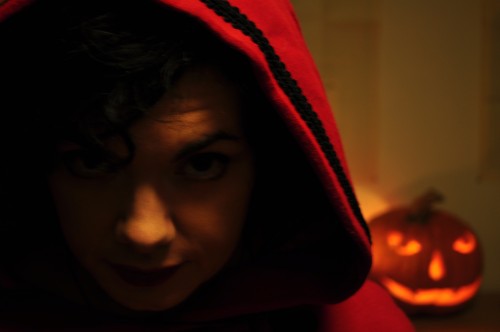 I wish you all a very Happy Hallowe'en, a Blessed Samhain & a Merry NaNoWriMo Eve!