So last night we stopped at FAO Schwarz after dinner and in the Central Park Zoo section there was a plushy fennec fox and we had to take him home. I mean, how could we not?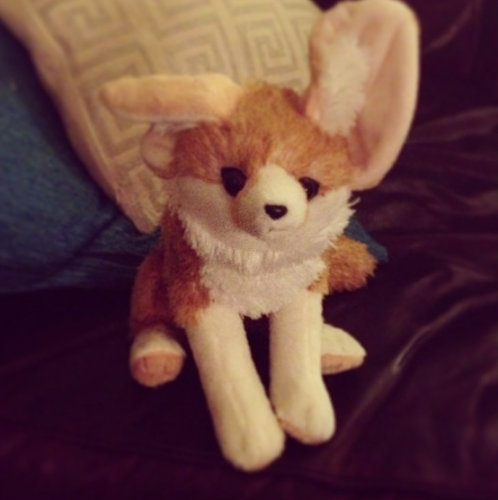 I carried him home sticking out of my purse like a small dog and as far as I could tell no one even noticed. I kind of love New York for that. (I have, for the record, only asked the fox what he says about a hundred times.)
Also in adventures from last night: I very much enjoyed David Blaine's Real or Magic, I am fond of his style anyway and Ricky Gervais's lovely rambling reaction at the end about real things disguised as illusion reminded me of the circus.
In other news, off to warmer climes for extended holiday season stuff soon, though I can hardly believe it is so late in the year already. This year flew, like a little fast thing with wings.  I will likely be even more MIA from the internet than I have been already due to the wonderment that is NaNoWriMo. (Current word count: 38,415.) I will probably Instagram Thanksgiving cooking adventures. Also I have downloaded Welcome to Night Vale to listen to on the road trip because I have heard endlessly good things about it.
There are lots of random things to post about and hopefully I'll find more time to post about them in December, and I'm keeping all my crossables crossed that 2014 ends up being a bit calmer than 2013 on several levels. I hope you are all well & wonderful.