Two Friday the 13ths in a row! They are one of my favorite types of day. I got married on a Friday the 13th, which probably adds to the fondness, but I liked them before that, too.
I'm wearing BPAL's latest 13 blend today, too.
A sweet, comforting base of dark chocolate and brown sugar with thirteen herbs of good fortune, including nutmeg, Tonka, allspice, star anise, Jamaican and African gingers, devil's shoestring, lucky hand root, and thyme.
It's a dry, spicy, gingery scent on me with just a little bit of sugar sweet kicking around the edges. Very different from my only other 13 from BPAL, the original white chocolatey version that I wore for my wedding.
Mostly layering paint on a custom painting today that keeps wanting to be darker. I like it better today than I did yesterday, so I think it was right about the dark. Going to let it dry and see how I feel about it after that.
Tessa just jumped in front of the computer, so I assume that means she says hello.
This is my new tea mug that I promised pictures of, on my desk with my statue of Thoth hanging out in the background: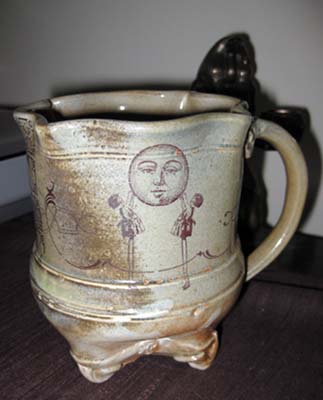 It's from khphillips on Etsy. (This mug, link has additional angles.) I've had my eye on this style of his for ages, I love the tones and the decals, but this is the first one I've actually purchased. It's even lovelier in person. I'm tempted to start collecting them, replace my mass-produced mugs with unique pieces of usable art.
Getting Indian food for dinner, nom nom tandoori salmon. Mulling things over more than editing, I tend to switch back and forth from painter to writer and back again. Today is a painting day.