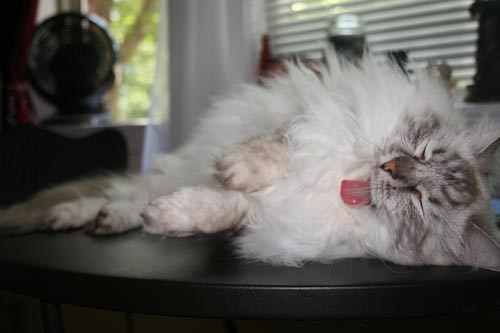 Tessa looks how I feel right now. Maybe without the yawning. But she's been sprawled out in front of the fan all day and I would really like to be able to do the same but I don't think I'd fit on that table and I have work to do. Lucky kitten.
I know, I should have the a/c on when it's this humid. But we've had such a mild summer that we haven't put the air conditioners up. It's really not that bad with the fans, but it's uncomfortable enough that I don't really feel like doing much and would rather flop like Tessa. But I'm trying to be good.
Tarot Queens are going slow, mostly because the humidity makes it hard to paint. I still should be able to finish them by the end of the week, the base layers are down already and they mostly need detailing.
There will be sharable news on the literary agent search soon. I'm still playing the waiting game so nothing is definite yet. I think I'm actually getting better at the waiting game because I stopped biting my nails and I don't freak out quite so much every time I have new mail.
I am not a summer creature, despite being born in July. I'm craving autumn already, with crisp leaves and pumpkin spice lattes and apple picking and none of this horrid humidity.