So far this week is all storybirds and sketching the tarot kings. I think I have strong sketches for all four kings now. I ended up starting them over and making them all a bit more modern and sort of formal yet casual and I think it works. I'm going to let them sit overnight and if I still like them in the morning I will start painting them tomorrow.
And then this long crazy tarot journey will be a happy squirrel and some detailing away from complete. Which is kind of baffling.
I am mentally dipping my toes back into revisionland again, though the holidays and the snow and something vaguely resembling a head cold are making it a bit difficult. I have Ideas. I am attempting to string them together into something cohesive. I feel like I'm deconstructing the old draft the way they deconstruct food on Top Chef and I'm worried that it won't taste good but I can't taste it properly until all the ingredients are on the plate. Someday I will be able to explain my writing process without metaphors but today is not that day.
Also, I got tickets to see Sleep No More a third and final time after the holidays. Sleep No More & revisionland are currently tied up in my head in this moody masquerade of darkness and tuxedos that smells like evergreen. There's something in it that is precisely what the novel needs. If I can find a way to translate wordless immersive theatre into text.
But I'm trying not to worry about that too much yet. Here, have a photo of Tessa in a bag.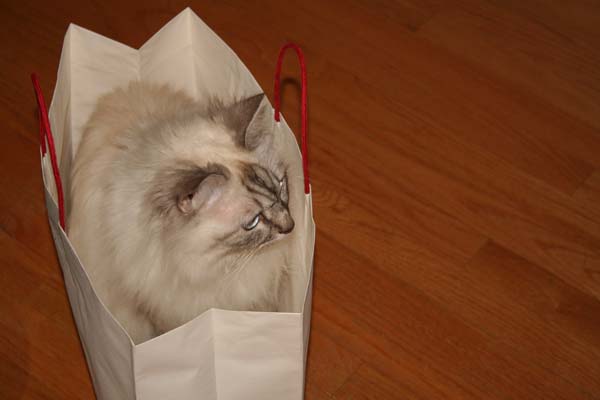 Kittens love the holidays. 'Tis the season of bags and cardboard boxes.