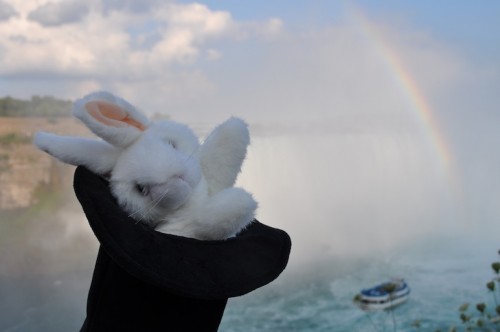 Hello internet! How is it August already? I am travelling, going on a mini-hiatus this first week of the month for a multitude of reasons including trying to write for a change. Also I have a new friend, pictured above with rainbow.
Thank you to everyone who tuned into the chat on goodreads on Monday to listen to me babble and talk with my hands! We had a few technical difficulties but I believe everything recorded fine and the video will eventually be archived over on my goodreads author page.
And I was on NPR talking about reading Stephen King at a rather young, clearly impressionable age. You can read (or listen) to it over here.
I'm also hoping I will have more time in August to write some blog posts with actual content (I still have a draft of one about books-not-written-by-me that I started in May) and time to catch up on emails, but for the moment I am off having adventures both real and imagined with a bunny in a hat and I shall be a bit scarce around the internet. Please don't break anything while I'm gone.