I have been meaning to post this for ages, but here is a link to the beautiful music Aby Wolf did for my Talking Volumes event in Minnesota:
Isn't it pretty? I am delighted beyond measure that the circus is inspiring such loveliness.
This post started as a random collection of things I've been listening to & watching lately but then it started wandering into thinky thoughts about input mode versus output mode which is something I think I've blogged about before, and I am still very much in input mode right now. So here's a bit about the stuff I've been absorbing.
I have seen more movies this month than I did total in the previous year or so and I will tell you about them! Briefly.
First there was Cloud Atlas which I saw almost immediately after finishing the book so I was likely better prepared than most and I was surprised how much I enjoyed it. (I enjoyed the book, too, though not quite as much as I'd wanted to. Partially because I liked the middle bits more than the outside bits.) It's pretty and I liked the choices made with the story structuring. Also the china shop dream sequence bit was worth the price of admission it made me so happy. That said, I worry it would make absolutely no sense to anyone who didn't read the book. And I'm looking forward to watching it again on dvd because I'm almost more interested in hearing people talk about it via commentary than the actual watching part.
This past weekend I saw Life of Pi which I read ages ago when the book first came out and I thought the film was lovely, the visuals were gorgeous and I was glad they stuck so closely to the narrative of the book, particularly at the end.
In non-book adaptation movies, Skyfall was awesome. I'm not a huge Bond girl but I loved Casino Royale and I really liked this one, too. Particularly the opening credits.
(Now I'm patiently and somewhat skeptically waiting for The Hobbit.)
In other media, I've been playing video games. I am not much of a gamer but in the last couple weeks I got vaguely obsessed with Portal & Portal 2 and they made me happy, because they are the thinky sort of puzzles that I love and also the writing is fantastic. Also they gave me an excuse to have cake.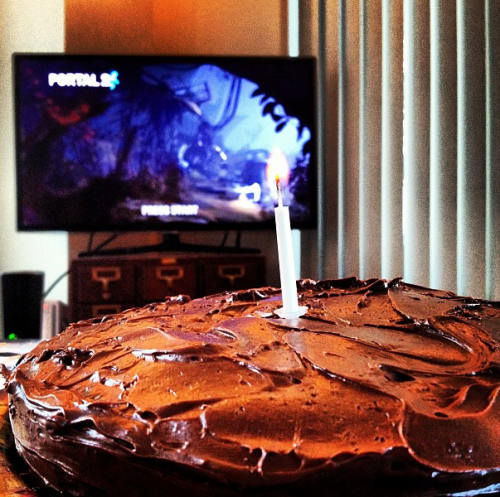 I find sometimes more than movies certain games get my story-brain going more, maybe it's the decision making part or the unexpected dragons. (I may have a mild Skyrim addiction.)
I'm finally getting better about acknowledging the fact that all this is productive, even though it doesn't seem like work. I've spent a lot of the last year and a half in circus promo mode and it's hard to crawl back into the writing cave. Well, no, crawling back in the cave is easy, the difficult part is writing and not just curling up with the bats and taking a cave nap. So I need to wander around outside the cave for a bit and see what there is to see, to get my brain re-acclimated to being creative.
And I like finding those things in non-book forms, I find sometimes stories in film or tv or game or theatre or painting or song form spark ideas just as much if not better than reading other books does. They stretch the imagination in different ways.
I think it's a Julia Cameron Artist's Way thing about "filling the well." About taking time to see and enjoy and absorb new stuff to get your creative brain going. That's mostly what I'm doing at the moment when I'm not stressing about moving and catching up on life and wondering how it is tipping into December already. Absorbing things and drinking tea and letting my brain soak up the good bits. Sooner or later it'll bubble over and then we'll tip back into output mode, I'm sure.
Since we started with music we shall close with music, too. Things I've been listening to beyond the mentioned-in-Toronto Andrew Bird include the new Bat for Lashes album and the constantly-in-my-head Adele Skyfall theme, but mostly I'm totally late to the party getting into Of Monsters and Men and I cannot stop listening to this album.