I am trying not to say things like "this year flew by" or "where did 2014 go?" but I am thinking them, very hard.
I was sick a lot this year. I had my wisdom teeth removed. In a lot of ways this year was about taking better care of myself and I'm not sure how well I did so hopefully that will be a continuing theme for 2015.
I had a comparatively quiet year but it was filled with a lot of things. I have a new niece. I learned to play croquet. I met Tori Amos. I turned 36. I saw Macbeth & King Lear. I redesigned my website. I celebrated Margaret Atwood's birthday with some of my favorite writer people. I got to be Quentin Coldwater. My go-to Manhattan bar closed. I went to Vermont and Toronto and I'm typing this in Florida. I wrote a lot but not as much as I would have liked. It's not book-shaped. That's okay.
Most importantly in 2014, I got married.
I'm looking forward to 2015. I'm not big on resolutions but I really like Chuck Wendig's 2015 Resolution for Writers.
2014 Favorites
Books.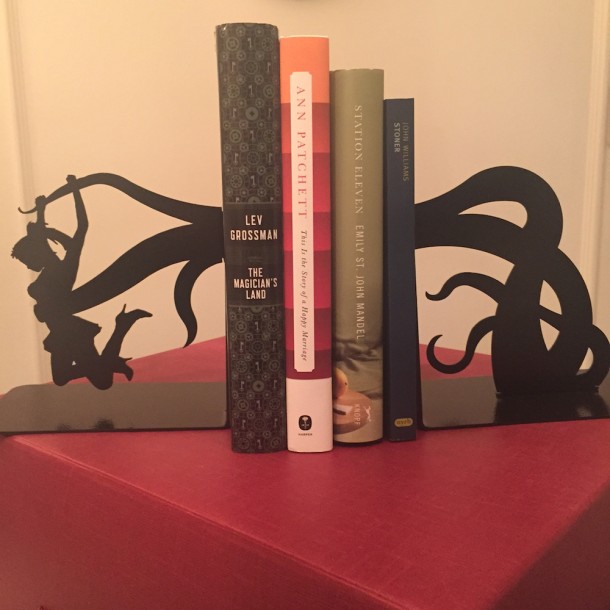 I had a low volume reading year. There are so many books I accumulated this year but didn't get to. I read less when I'm writing & I didn't read much when I was sick and when I sorted through what I did read the list of books I really loved was particularly short. Though I think that's partially because they are books I really, really loved. (The short list pictured with new favorite bookends, holiday gift from my darling editor.)
The Magician's Land by Lev Grossman
This is the Story of a Happy Marriage by Ann Patchett
Station Eleven by Emily St. John Mandel
Stoner by John Williams
(Honorary not pictured mentions to The Enchanted by Rene Denfeld because it came out this year (I read it last year) and Get in Trouble by Kelly Link which I read this year but is not out until next year.)
Music.
Favorite new (or new-to-me) albums this year:
Lana Del Rey's Ultraviolence, Taylor Swift's 1989, Agnes Obel's Aventine, London Grammar's If You Wait, & Birdy's Fire Within.
Thought a lot about song of the year. Was tempted to go with Taylor's "Shake It Off" for fun but went personal instead. (Someday, when I finish this book, this choice will make more sense.)
Movies/TV.
I didn't see enough movies to warrant a movie section. I'm including it to make myself feel guilty and hopefully I'll see more movies next year.
The only tv show we keep up with anymore week-to-week is Game of Thrones, which I am conflicted about but will probably watch week-to-week next season anyway. We also started watching all of Fringe which I never saw when it was on but is far more enjoyable than I'd expected, we have about a season and a half left. Also looking forward to more Orphan Black.
Games.
Of the video variety: I feel silly saying my favorite game of the year is Dragon Age: Inquisition because we literally only started playing it less than a month ago but I'm a little bit obsessed.
Of the tabletop variety: We started getting into tabletop games this year and by far my favorite is Pandemic.
Other media.
I am late on the Serial bandwagon but we binge-listened to the whole thing the other day and it is absolutely fascinating both on an investigation level and as a narrative.
(A minor resolution for next year: keep better track of books & such for end-of-year favorite list.)