If you are a dreamer, come in,
If you are a dreamer, a wisher, a liar,
A hope-er, a pray-er, a magic bean buyer…
If you're a pretender, come sit by my fire
For we have some flax-golden tales to spin.
Come in!
Come in!
— Invitation, by Shel Silverstein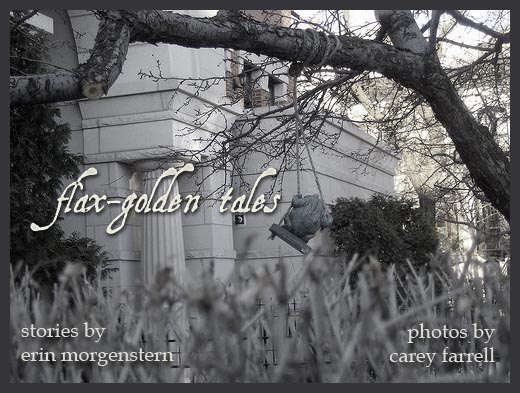 flax-golden tales
stories by erin morgenstern
photos by carey farrell
2009-2014
Each flax-golden tale consists of a photograph by Carey Farrell accompanied by an original ten-sentence short story by Erin Morgenstern.
They were posted to erinmorgenstern.com on Fridays from July 2009 to July 2014. There are 261 tales.
All flax-golden stories can currently be read here.
About the Artists
Erin Morgenstern is the storyteller, weaving little bits of word whimsy and sending them off into the wilds of the internet with photographs to keep them company. She also writes novel-shaped tales, paints pictures, collects cocktail recipes, knits at a mediocre level and burns easily.
Carey Farrell is the person behind the camera. When not being a photographer, she is a singer, a writer, a redhead, a pirate, a guitarist and a pre-school teacher. Not necessarily in that order, and usually not all at the same time.  She sails the windy seas of Chicago, and elsewhere on the internet you can find more of her photographs on Instagram and on careyfarrell.com