Today is wedding anniversary number four, and the boy and I spent it as is somewhat traditional, galavanting around New Hampshire and picking apples. (Last year it was cold & rainy, so we went to see Sleep No More instead. Oh, Sleep No More, I miss you so.)
Apparently it was not a great year for apples, but we ended up with a large bag of Mutzus anyway. I am plotting an apple goat cheese tart for the weekend. It was lovely and sunny and we bought pumpkins and I took lots of photos, the best of which are up on Flickr.
After we got back to Salem we went out for dinner and had lots of food and wine and excellent tiramisu.
And this was my anniversary present: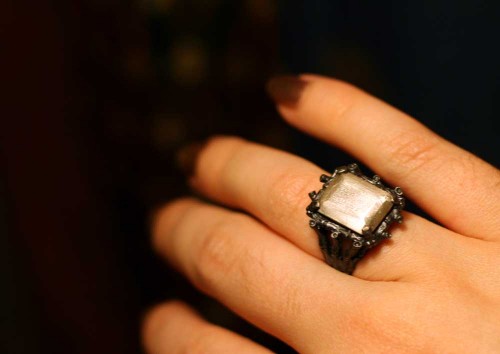 Persephone's jewel, from Blood Milk on Etsy. I have coveted it for ages and it is even more beautiful in person.
Had a marvelous day. Can hardly believe it's been four years already. Apparently traditional fourth anniversary giftage is fruit & flowers. Well, we do have apples.