Hi.
I have been completely useless. I keep squealing at people on the phone when I'm not rendered utterly speechless. At this point I think my agent would be shocked if we had a conversation that didn't partially involve stunned silence on my part. I think I EEPed at him. That's probably not very professional.
I've been trying to write. I've been trying to read. I have been failing on both counts. I have a half-finished painting on the workbench that Tessa keeps napping on.
So I've been drinking tea and wandering around the internet. I bought a pencil skirt.
And I've been reading through Allie Brosh's brilliant blog, Hyperbole and a Half. Her post on being a failure at success is so me right now it's absurd.
I am not coping well with this bit of success I seem to have come across.  It appears that my nervous system is having trouble distinguishing celebratory excitement from extreme danger.
So yeah, me in a nutshell right now, only not as blonde: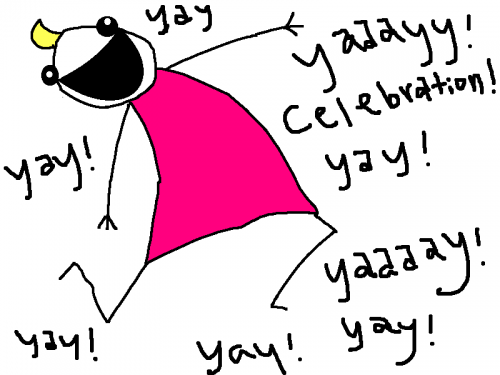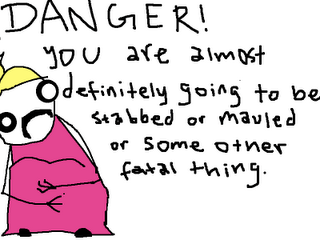 I go back and forth from hysterical giggles to near panic attack. I think the boy is concerned.
I almost don't want to post this. I want to appear all calm and cool and collected but I'm totally not. And I figure the best thing I can do is just be honest. So yeah, I'm squealing at people on the phone. A lot. I'm giddy with excitement but I'm also kind of nauseous and I feel like my life suddenly completely changed even though I haven't left my apartment.
Amusement park ride metaphors would likely be appropriate. Maybe not quite roller coaster, but that centrifuge thing that spins you back against the side of a wheel while the world tilts out from under you? Yeah, that.
If I try to get off, I'll probably just fall down. So I'm going to hold on and see what happens next.