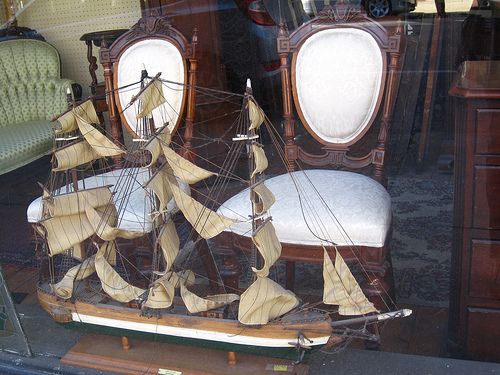 visualization tools for dreamtime adventures
I'm not that good at visualizing.
I practiced constantly but I only managed to master everyday objects. Apples, pens, coffee cups. Not particularly inspiring dream fodder.
No matter how I tried I couldn't capture anything fantastical that didn't feel fragile and thin and fleeting. But I knew I must be doing something right, what with the crispness of the dream-apples and the perfect level of sweetness in my dream coffee.
So I found more adventurous objects to fill my everydays, though it required creative shopping.
I found the ship in an antique shop.
I studied the masts and the rigging and the curve of the bow, slowly learning every detail.
Now I can sail the seas in my dreams.
About flax-golden tales. Photo by Carey Farrell. Text by Erin Morgenstern.