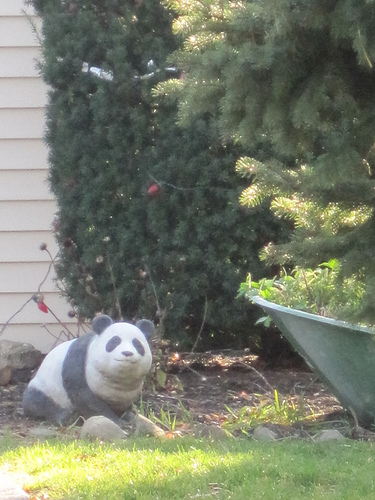 a small but helpful stray panda
The panda followed me home. Probably because when I encountered it sitting on the side of the road I pet it gently on the head but I hadn't ever pet a panda before and I wanted to see what it felt like. (Not as soft as I'd supposed, but he needed a bath.)
I didn't realize he was following me until I got to my house and he headbutted my leg while I was unlocking the door. He's kind of stealthy for a panda, but he's small-ish, about the size of a medium-sized dog or an overweight cat, and he doesn't make much noise.
I didn't let him in, I'm not sure why. I guess pandas seem like wild animals regardless of size and whether or not they turn up unexpectedly on suburban sidewalks and enjoy pets on the head.
The panda whined and pawed at the door after I went in and that night he slept on the porch swing curled up like a black and white pillow.
The next day when I went outside he brought me a small branch and for a moment I thought he wanted to play fetch but then I realized he'd trimmed all the bushes, better than the gardener ever did.
After he helped me hang the holiday lights I decided I should let him come inside.
About flax-golden tales. Photo by Carey Farrell. Text by Erin Morgenstern.