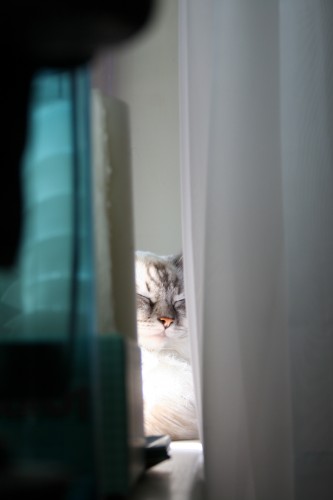 I have been in a sort of cocoon of Lapsang Souchong tea and writing lately, alternately accompanied by Philip Glass on solo piano and Zoe Keating on multi-layered cello.
Now I've moved on to being vaguely addicted to Amanda Palmer's new solo album, Who Killed Amanda Palmer. I wasn't sure what I thought of it at first but it has grown on me like some sort of musical fungus and I think I love it to little bits. Or something.
Still writing. Still have my Lapsang Souchong. Still have kittens finding new and interesting places to nap. Tessa was all about the front window for awhile (see photographic evidence) and now she's underneath the gold armchair in the corner. Bucket has taken to flopping in various spots in the hallway so I have to jump over her to get to the kitchen for tea.
It feels like it could trip over into autumn any day now, I am sick of the humidity and I long for scarves and fingerless gloves and pumpkin spice lattes. It is my favorite time of year, all cinnamon and leaves and crisp cool air. Any day now.