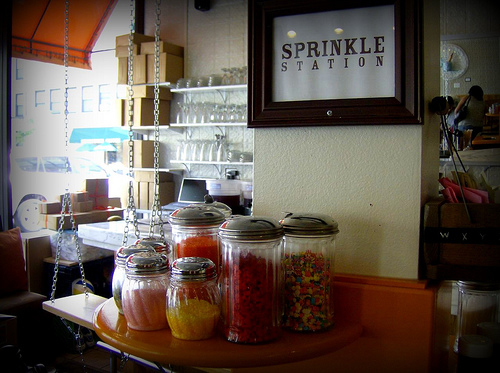 sprinkles
A little girl stops at my table, eye level with my bowl of ice cream.
"You don't have sprinkles," she observes.
"The sprinkle station was too crowded," I explain.
"I'll get you some," she says. She walks solemnly over to the no-longer-crowded sprinkle station, standing on her toes to peruse the selection.
After thorough consideration, she comes back with two glittering jars: one green and one pink.
"These ones are Happy," she says, shaking the green jar delicately over my bowl of naked ice cream. "And these ones are Sad," she says, repeating the gesture with the pink sprinkles, letting them fall like tiny rose petals.
"Thank you," I say, though I'm not sure what she means.
"When you eat them both together, they taste like memories," she tells me, before returning both jars to the sprinkle station.
About flax-golden tales. Photo by Carey Farrell. Text by Erin Morgenstern.