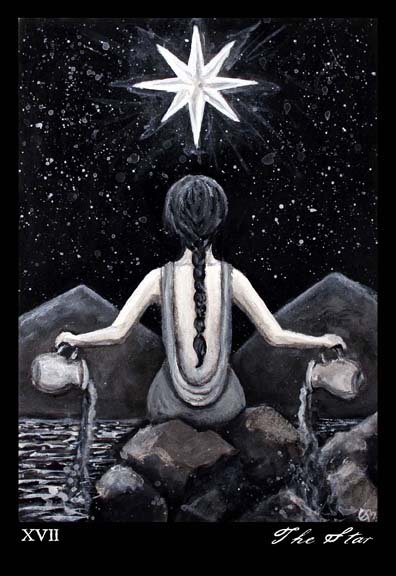 As some of you may know, during 2006-2009 I painted a 78-card tarot deck in black and white and shades of grey. I spent the same approximate time writing and re-writing The Night Circus. I lived in monochrome for a good long while there, and there are references to the circus in some of the cards.
All of the paintings can be viewed on phantomwise.com. (Click on the aptly-named gallery.)
There was a stunning 100-copy limited edition deck of the 22 Major Arcana cards, which was available over here but is currently sold out. Sometimes they will show up on tarot trading sites and such.
I get asked this a lot lately, so to publicly clarify: I do not have a publisher for the complete deck yet.
It is on my ever-growing to-do list and I promise I do intend to get the deck published because I want it to be available for the tarot-loving masses, but I also wrote a book and it sort of ate my life. (If you happen to be a tarot publisher and are interested in publishing the deck, please feel free to contact me.)
The tarot aficionados will likely appreciate this aspect of my current life balance issues: in the summer of 2009, just before I started querying literary agents, I had a wonderful professional tarot reading and the only negative element was in art/writing balance, where The Tower showed up to remind me that I cannot give all of my energy to different things without falling down. Something had to take priority, and the universe clearly and loudly decided it would be writing.
My apologies for the continued wait, but I want to give the deck the time and energy it deserves, including possibly touching up some of the paintings, so it's going to take a while. Thank you for your patience.