I get a lot of spam comments on the blog. Like a lot a lot, so I apologize if real comments get lost in the shuffle. Sometimes it's hard to distinguish real comments from spam, like this morning there was this one:
Hello, you used to write magnificent, but the last several posts have been kinda boring… I miss your tremendous writings.
Which made me feel sad until I noticed all the other information just wanted to sell me an iPhone 4s, and I already have one. It has a fabulous Leontine Greenberg GelaSkin and everything: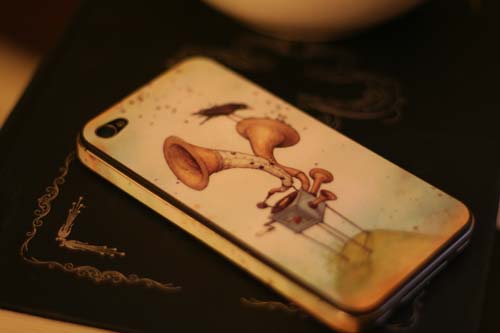 But yeah, I miss my tremendous writings, too. Not that I'm certain I ever wrote magnificent (or magnificently), but I used to be able to write vaguely thoughtful things and I'm sorry that I haven't in a while to the point where I feel sad about spam comments trying to sell me things I already have. Though usually they're trying to sell me Zunes, which I do not have and do not want. Also a lot of them lately are about babies and escort services. Not usually at the same time.
I am working on two other blog posts, one is a belated tour catch-up with photos that I did manage to get off of my old phone. And there shall be an epic post about Writing and Publishing because I keep getting asked for Advice and I figured I should try to cover some of it here. (A forewarning: it will be more Thoughts and Personal Experience than Advice.)
But this post is not about those things. This post is an attempt to get back to posting about what's going on with me because the heart of any blog is narcissism. And cats, but we'll save the cats for later.
On Thursday I was given less than 24 hours to write a piece about NaNoWriMo for NPR and I very nearly said no but then decided since NaNo is about writing under a daunting sort of deadline it was absurd to decline just on principle so I wrote it and sent it and thought that would be that. Friday I got a call at noon that they liked it so much they wanted me to record it for All Things Considered that afternoon. I got this call while I was still in my pajamas doing my laundry. So my Friday afternoon was more interesting than I'd anticipated, and you can read & listen to my quickly-written rambling over here.
This weekend I read several volumes worth of Fables, which I am loving like a lovey thing and will likely curl up with again later today. I've been meaning to get into it for a while and finally read volume one about a week ago after it had been sitting on my shelf for ages and immediately ordered several more volumes.  (In non-graphic novel reading I am working my way very slowly through Nick Harkaway's upcoming Angelmaker). I also ate a lot of good food and did a lot of laundry and taught myself how to make origami stars.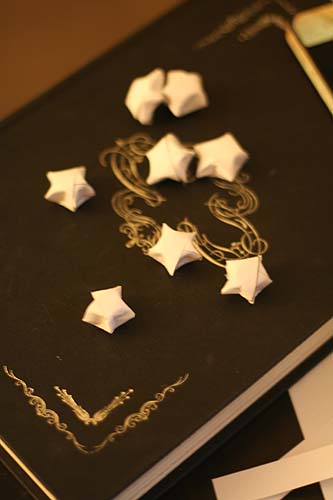 I'm not very good at them yet, but I'm making them with laser printer paper since that's all I have on hand at the moment and it doesn't make for the most elegant origami. I like them, though, they're fairly easy and they turn out all poofy with lots of personality, even if most of them are somewhat lopsided.
Also this weekend I finally got to see The Muppets, which I have been giddily excited about for ages. I grew up on Muppets. I saw The Great Muppet Caper in the theater when I was about four years old and I think it's the reason why I am still obsessive about sitting through the credits at any movie because my dad and I were the only ones left when Gonzo takes a photograph of the audience at the end. I'd had high hopes for this film since it seemed like it was aiming to capture a very classic Muppet tone and I wasn't disappointed. I was actually so wrapped in a glorious nostalgia-hug that I teared up a few times, I cry easily and have been particularly emotionally fragile lately but I'm certain I would have gotten verklempt anyway. And laughing and crying at the same film seems rather appropriate right now.
I'm still in post-tour recovery mode, though I'm feeling slightly more alive. Maybe too alive. I'm a mess of nostalgia and fear of the future and I'm not sure how to be me anymore because my life has changed and expanded so much in the last year or so. I'm not sure I should even tell the internet such things, but old habits die hard.
For now I am trying to adjust to my life as it is right now and making poofy little paper stars. Wondering how, exactly, to write magnificent.