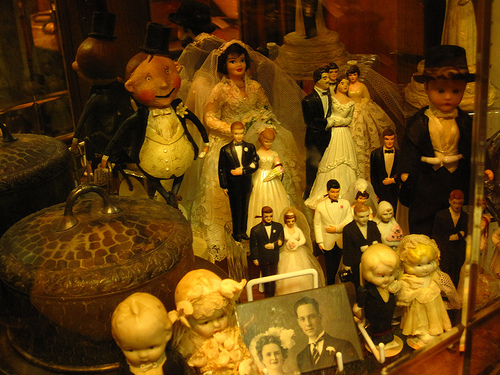 relics
My grandmother started the collection but my father kept adding to it once he inherited. He's already explained the key rule to me in case I want to continue it myself someday: they have to have been used.
There are antique hand-painted porcelain ones and cheap plastic versions with muddied features. Some are exaggerated cutesy cartoons while others are properly proportioned with highly detailed suits and gowns. Tiny top hats. Minuscule lace.
A few have traces of long-dried frosting clinging to hems or dusting shoes like sugar snow.
I wonder what each pair's wedding was like. What they saw through unblinking eyes before being taken down from their tiered cake watchtowers.
I know realistically it's unlikely that each miniature couple's life-sized counterparts lived happily ever after, but I hope that they did.
About flax-golden tales. Photo by Carey Farrell. Text by Erin Morgenstern.