I had this idea to pile up all my pseudo-research, flavor profile, inspiration-for-the-new-novel things for this post and then I realized it was too much and I didn't have enough space to pile everything.
So I settled for highlights, along with my most deco lamp.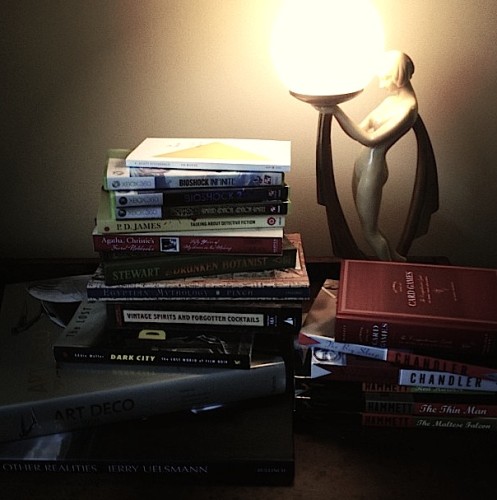 And of course the photo turned out all dark and mysterious.
Not going to go through the whole list but the placing of Fitzgerald on top of Bioshock is oddly appropriate, and in a perfect world there would be more poetry, more graphic novels and a copy of Katherine Paterson's Bridge to Terabithia, too, but I'm avoiding rereading that one on purpose.
I'm still reading and note-taking and pulling bits of inspiration out of dark corners and trying to figure out how to structure everything properly. But it's difficult to find the best structure while I'm still pulling together building blocks.
It doesn't even have a title yet.
I renamed a character today, something I rarely do, but I think I needed to and hopefully it'll help untangle her personality.
It's not a novel yet. It's big and overwhelming and not story-shaped. It's annoying.
I've been working on this story for a comparatively long time but I've been so busy with other things in between that I feel like I'm behind, when really I'm only just getting properly started.
And I'm realizing I have a bigger world on my hands (or in my head, rather) than I'd thought.
Apparently I am not very good at keeping things simple.
But I'd rather explore things properly and figure everything out and get it right even if it means reading more books and taking more notes and using more of that ever-problematic time. I feel like I have said all this before but I keep thinking about it every time anyone asks when the next book will be out.
Not soon. Sorry. Please have a cookie or a drink (or both) while you're waiting.
I am going to keep digging through detective novels and mythology, taking notes and writing bits and pieces even when it feels like I'm wandering around my head in the dark with an unreliable flashlight.
It's going to take awhile.