As of the end of this month we'll have lived in NYC for one year. It is still strange to me to live in New York. I like it more than I thought I would, though I don't think I will ever get truly used to it, no matter how long we stay.
The buzz of the people isn't as overwhelming as it was at first. The sidewalks don't seem as crowded. I don't feel quite as lost once below the helpfully numbered gridded streets in Manhattan, though I still need to rely on my phone to help me navigate.
We will be here for at least another year, so I feel like this was the practice year of falling out of the cardboard boxes and acclimating to the wonderment. I'm ready for another tour through the seasons.
Here are a few of my favorite things about New York, punctuated with some of my favorite city photos from this year.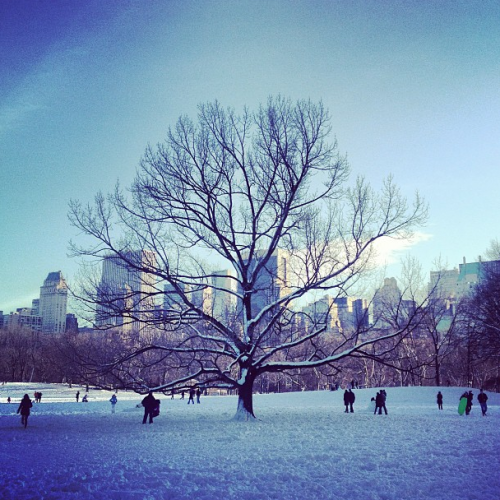 Central Park. I know, it's an easy choice but it's also a marvel, to literally be in the middle of the city but to feel as if you're somewhere else entirely.
The High Line. My other favorite oasis in the city, that feels like a river more than a park, you get swept along the lovely changing flow of it as you wander up or down. I love how it changes with the seasons, too. During the winter it had these lovely bare branches that faded from yellow to red that were just gorgeous.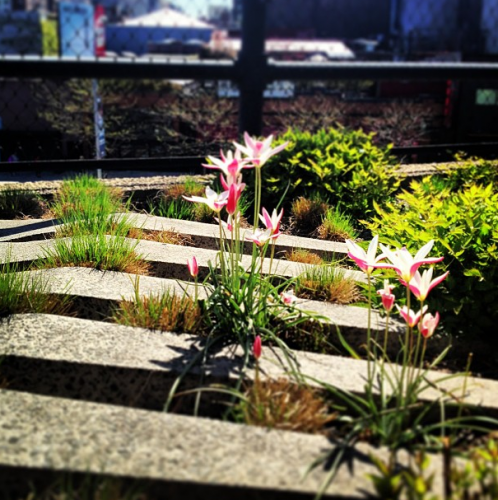 The Morgan Library & Museum. I didn't even know about this beautiful space before we stumbled upon it and I'm so glad we did. Saw a wonderful exhibit of surrealist drawings earlier in the year, looking forward to seeing their current Edgar Allen Poe exhibit, too.
The McKittrick Hotel. Also known as the home of Sleep No More, (which I only actually saw once this year, we went for the Valentine's Day Dance) the space itself has expanded to include Gallow Green, one of my favorite rooftops in the city, plus multiple live music spaces and now it even has a restaurant. I keep expecting the whole thing to just vanish into thin air one day, but for now I'm glad it's there.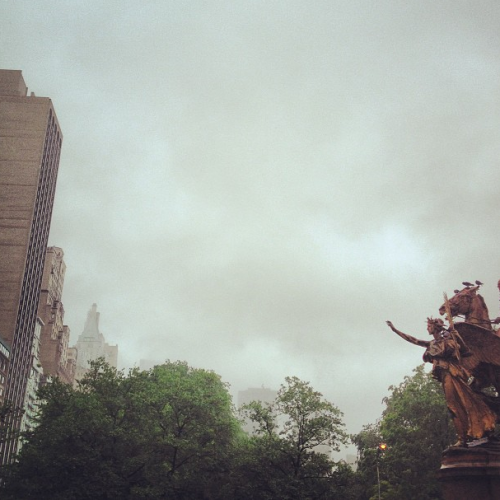 Over the course of the year I have become convinced that the block of 10th Ave between 15th & 16th is food heaven, it already had Morimoto &  Chelsea Market and as if I needed confirmation for this belief, it is now home to the NYC incarnation of one of my Boston favorites, Toro.
But if I have to pick a single favorite restaurant in NYC, the one that I keep going back to over and over that's always stellar that is also on that block, it is Colicchio & Sons. We end up in the tap room more often than the main dining room but they're both absolutely wonderful. I went twice in one week in November because I had to have the roasted apple chowder again. Love the space, love the food, love the service. Wish they'd bring back the gluten-free bacon waffles for brunch, because I miss them, but I also love that the menu is constantly changing.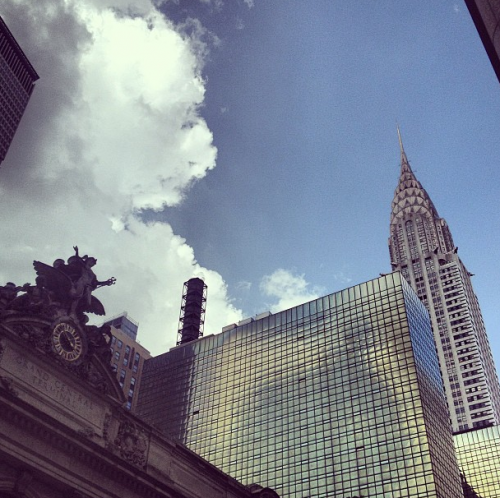 I feel like I have only scratched the surface of the cocktail bar options in the city and I have so many more to try but of the ones I've been to my favorite so far is Milk & Honey. Maybe it's the hidden location, maybe it's the space itself which is dark and deco and everything I love about a proper cocktail hideaway: quiet and atmospheric and sexy. But really it's the cocktails themselves, since they don't have a menu and you just tell them what you like and they run with it which makes everything surprising and magical. It is one of my very favorite places in the city. I kind of don't want to tell you about it, that's how much I love it.
I could go on and on but those are the major favorites. I'm sure next year's version of the NYC favorites will have new discoveries and that's one of the things I love about New York, there's so much of it to explore.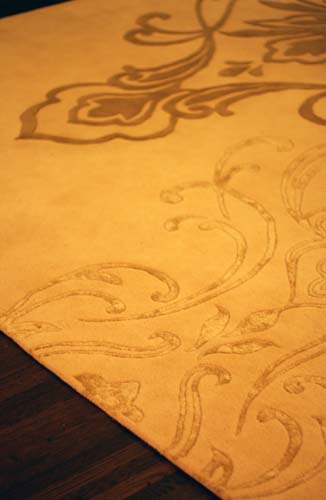 This is the aforementioned tarragon and bone rug. Technically it has three different colors, though, so I'm not entirely sure what to call the pale pale shimmery green, as I'm guessing the darker one is tarragon and the background is bone.
The internet tells me that the word tarragon derives from something French for little dragon, which I like even if it's not necessarily true just because the internet said it was.
But the fact that my living room floor is covered in swirls of little dragon herb green is rather fun and quite comfy.
Have yet to determine if it goes with the teal chairs, since the teal chairs have yet to arrive, but it blends well with everything else, so that's something. I forgot how long it takes to sink into a new home, especially since I never properly sunk into the last apartment because I was travelling so much and also there was construction outside my windows that started every day at 7am which did not make it particularly cozy or relaxing.
I am likely the only person who has ever moved to Manhattan and delighted in how quiet it is. Comparatively.
I am assembling a puzzle of cozy homeyness and I don't quite have all the pieces yet, but it's getting there. I have books on shelves and I'm starting to hang things on walls and it feels warm despite the fact that it is far too cold outside.
I'm getting to know the outside, too, though slowly because it is cold. Discovering corners to linger with cocktails and delicious food, trying places on to see if they will become regular haunts. Though the at-home comfy is taking precedence over the outside comfy for the moment.
I found a place to buy loaves of freshly baked gluten-free bread so I can cut the slices as thick as I like (and then cover them with goat cheese and fig spread). I am in love with the fact that anything, anything can be ordered and delivered to your door here, and particularly delighted that sushi arrives in 15 minutes as opposed to the almost-hour that was standard in Boston. Though I suspect almost-instant sushi could also be dangerous.
I'm still unpacking. I just unpacked the rest of my shoes yesterday and half of them are still in a pile in the closet. Most of my office is still in boxes. The "catch up on email" that was near the top of the to-do list for January is still nowhere near to being crossed off despite the fact that January is slipping away.
At this rate I'm just hoping I'll be through with the cardboard boxes by the time February shows up.
But I'm cozying up the writing cave, so I can spend most of February and March working on that not-yet-novel shaped thing my brain has been itching to get back to, though over the last while it was often too busy being tired to itch.
I think letting it sleep past 7am and not waking it up with beeping and crashing and jackhammers has helped. It's feeling somewhat well-rested and it's starting to get itchy again and I actually have a desk chair now, so that should be nicely writing conducive.
The fact that the calendar has little on it beyond writing and home-creating is delicious and delightful, and I can only hope that the writing goes as comparatively smoothly as the decorating has so far, building a new space piece by piece.
I am in NYC at the moment, but on Monday I spent the day being herded around eastern Massachusetts to sign stock at several different bookstores. So if you would like a signed paperback of The Night Circus they can be found at:
Harvard Books in Cambridge
Porter Square Books in Cambridge
The Concord Bookshop in Concord
Willow Books in Acton
Wellesley Books in Wellesley
and the New England Mobile Book Fair in Newton Highlands.
And I imagine most if not all of these stores would be willing to ship them if you called & ordered.
I of course did not get through all of those stores without a bit of book shopping, even though my to-read pile is absurd at this point. Also, socks.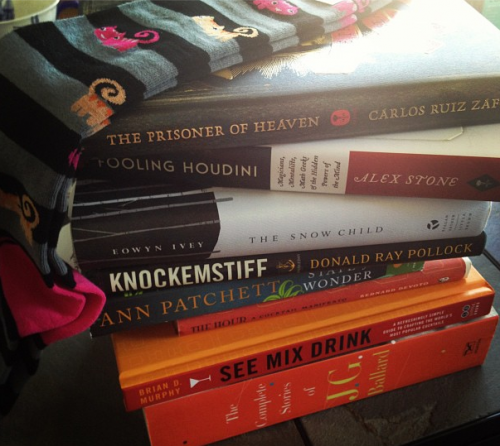 And this evening I shall be at McNally Jackson Books in conversation with Lev Grossman. I am not entirely sure what we will be conversing about. Possibly books or writing and very likely Harry Potter. Actually probably mostly Harry Potter.
I was in NYC last week for a few busy days and nights of half business/half vacation, with some overlapping of both in between. Sometimes it is difficult to tell the difference, especially when there is delicious food involved.
Here is delightfully out-of-focus photographic evidence, with me all grey & pink and springy, even though it was still lingering-winter chilly at the beginning of the week: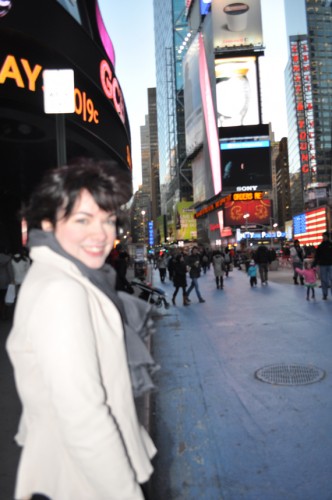 I forget how much I like New York until I'm there again surrounded by so many lovely people and so much fabulous food. (Most of my schedule revolved around lunches and dinners, I ate extremely well and now my refrigerator is making me sad.)
The week turned absolutely gorgeous weather-wise, too, and I finally got to walk the High Line which was beautiful and just starting to blossom with spots of color.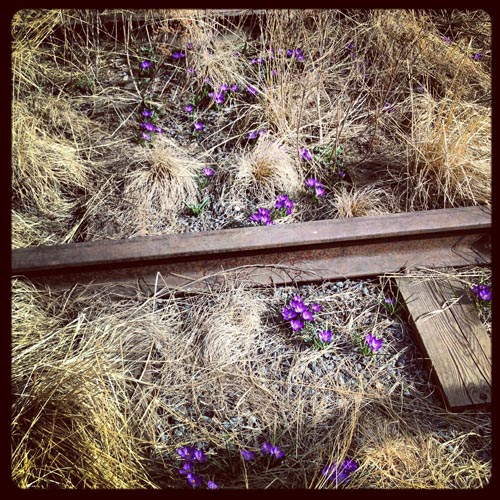 I also ran around Sleep No More for the ninth time and did indeed see things I hadn't seen before. I'd go again, too, since it's always so different, even though now certain rooms and hallways and shadowed corners seem familiar. I had one of my first genuine moments that made me jump this time, too, very nearly alone on the fifth floor. (Don't think I'd stumbled across the padded room up there before, either.)
But seriously, mostly I ate a lot (I had dinner twice on Thursday!) and I don't want to torment you with food, especially if you're hungry, dear reader, though I did take a picture of the caramel popcorn at The Breslin, because how could I not?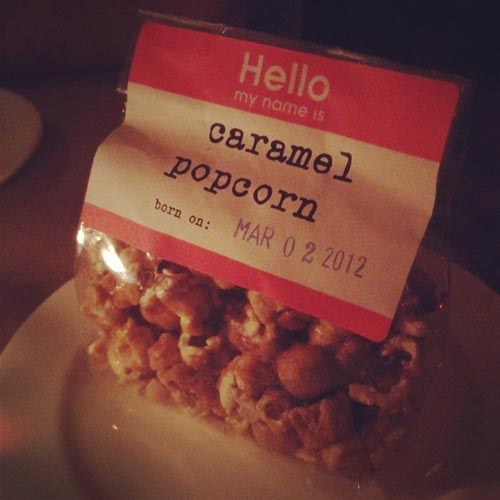 Back in Boston now, where after a bit of a cold welcome it is now bright, open-window almost springtime here as well.
Not going anywhere for the next while but I'm going to have to lock myself away for some serious working time. Still composing a blog post (it might end up being an experiment in vlogging) about how it is that writing time seems to be a fickle, fleeting thing nowadays and there will be a few addendums to the sorta-FAQ soon(ish).
Also I bought an orchid because it seemed a springy thing to do. Hopefully I can keep this one alive, I have a lousy history with orchids.
Spent the beginning of the week in NYC, having lunches and meetings and wandering around looking at twinkly lights. Part pseudo-business trip, part getting out of my apartment for a little while. My train down was subjected to zombie shenanigans, though Amtrak claimed it was "tree branches" knocking out "power" on the tracks. Got to New York about five hours late and had to change a lunch to a next-day breakfast but other than that everything was lovely. My first trip to Manhattan in about five years was almost a year ago, just post-holiday rather than pre-holiday though everything was still twinkly-lit. That was the first time I'd met my agent and my editor and September and real book things still felt very far off. What a difference almost a year makes.
Back in Boston now, trying desperately to manage the pre-holiday to-do list and wondering why all the blog comments from the last two weeks seem to have disappeared. Hrm. I shall try to tackle that mystery at some point, in between everything else on the list. In the meantime, here are some festive photos from New York.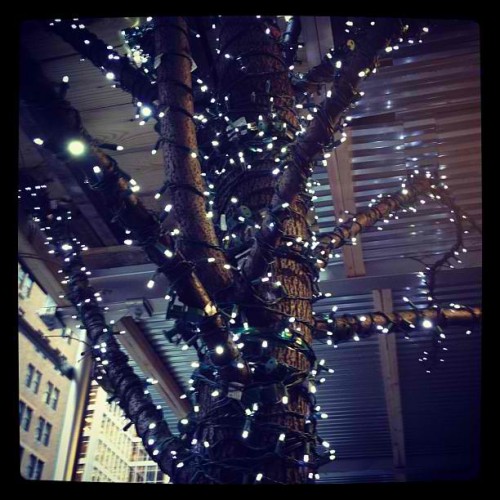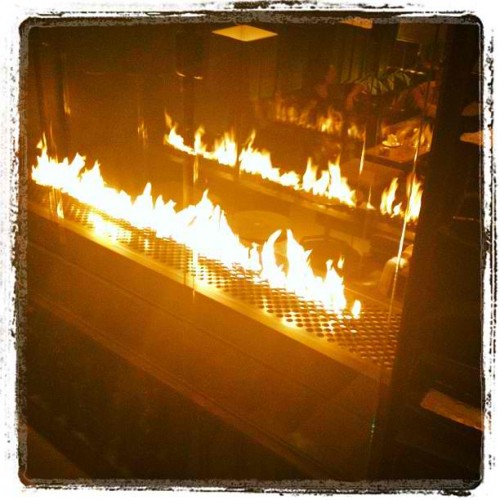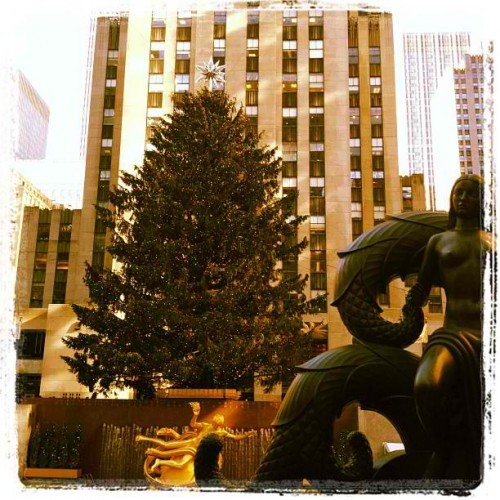 Other things I did in NYC that did not involve official BEA responsibilities:
I ate a lot of really good food. A lot. My favorite might have been this tiny little South African Wine Bar that my wonderful NYC-dwelling sister put on a list of recommendations for me. I love food on small plates, it enables so much more tasting of things. Also went to David Burke Townhouse which was marvelous and I only wish I'd been able to eat more, because those plates were not so small. The pretzel-crusted crab cake is swoon-worthy. Also there was sushi and cookies and lots of coffee. And chocolate mice, of course. (True confession: had my very first chocolate mouse on this trip. Never actually had one before. Now I have and it was delightful.)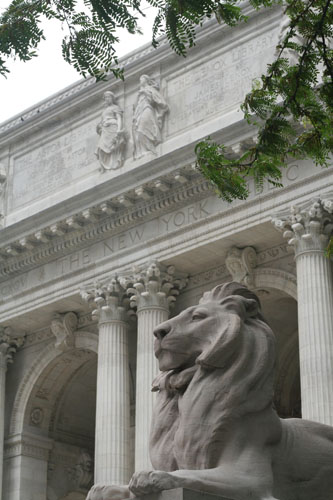 Visited the New York Public Library, I had walked by many times and said hello to the lions but I hadn't been inside. They have a fabulous centennial display with all manner of writerly wonderments, e.e. cummings' typewriter and Virginia Woolf's walking stick. Also, Lego versions of the lions: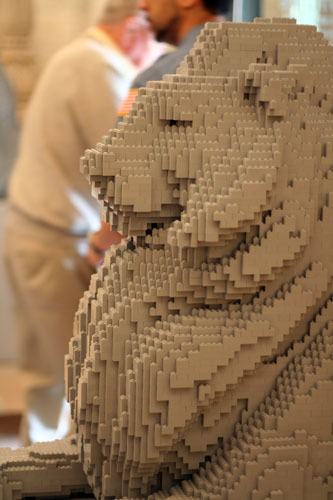 There's very beautiful art tucked in hallways, too, it was like getting to do a bit of museuming which I have sadly lacked in my last few trips to NYC.
Went to Sleep No More. Again. For the record, that's 4 times for the Brookline run and 3 in NYC. And really, if this was my last time I'm okay with that, it was dark and familiar and new and strange and it's not just every night that a man in a tuxedo locks you in a room and sits you in a chair and kneels down and lays a sword across your lap and then reads you bible verses. This was also the first time I was ever escorted from the space after the end, gently guided back to the bar to have my mask removed for me. It was a wonderful last moment in case I don't go back for an eighth visit. Though you never know.
Also, this is what happens when you try to take a photo of a lapin in your hotel window at night, it turns all Times Square Apocalypse on your poor bunny: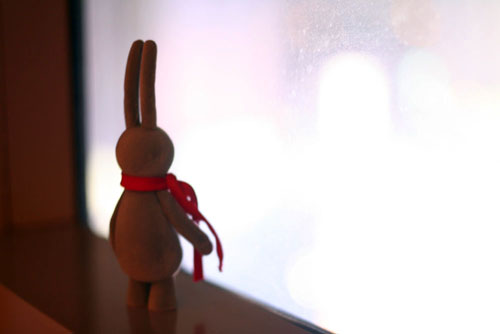 It was a fun view at night, though, all glimmery and never still. I really had a marvelous week, surreal and wonder-filled. And then there were zombies at South Station when my train home got in and I had to wheel my suitcase around pools of hopefully fake blood. It likely says something about me or my week that I did not find that surprising or strange.
And now I've been back in Massachusetts for a while and I'm slowly getting caught up with everything. I'm moving to Boston in July so that is taking a lot of time and energy, my apologies if blog posts and email responses and such fall a bit lower on the priority list, I am trying my best to keep up, thank you for your patience.
Okay, adventure recount time, finally! Only about a week overdue.
Last week we went down to NYC for a couple of days.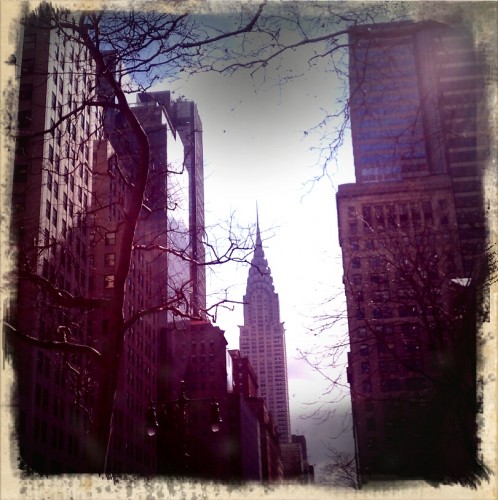 We went to see Sleep No More. Twice. Because I knew as soon as they announced the NYC run that once would not be enough. (Twice was not enough, either.)
For those of you new to the blog: I am completely, utterly obsessed with Sleep No More. I went four times when they did it up here in Brookline in Fall '09-Winter '10. It is immersive Shakespearean Hitchcockian wonderment and if you are in New York or able to get there, stop reading and go get tickets. I'm serious. They recently extended their run through the end of April, and I'm keeping my crossables crossed that they'll end up going through May when I'll be back down there, because I would go again in a heartbeat.
This production is similar to the Brookline one but different at the same time. The space is sprawling in comparison to the abandoned school from Brookline, which made it more of a maze. It was easier to get lost, which was fabulous.
The first night, I brought my agent & my editor along. I have a tendency to babble about Sleep No More & Punchdrunk and how inspiring it was when I was revising THE NIGHT CIRCUS, and of course it's difficult to describe properly so I was thrilled for them to be able to actually experience it for themselves. Considering some of the adjectives used after the fact, I think they liked it.
I wasn't entirely certain it would be as magical, having seen it so many times in a different space, but it was. I danced with witches and Duncan whispered in my ear. I was given a locket to keep me safe before being pushed, Narnia-style, through the back of a wardrobe. I wandered through dimly lit cemeteries and mazes made of branches and I spent ages in a detective office, reading files and incoming mail.
It is the closest thing I have ever found to walking into a dream.
And I am, of course, very fond of dreams.
There are no proper words to describe my love & giddiness & gratitude to the people who create such things & bring them to life.
And because I am all about themes and hotels, I decided I wanted to stay somewhere appropriate, so I googled "nyc art deco hotel" and stumbled upon the Chatwal, which happened to be running an amazing winter rate at the time so that decision was easy.
This is my fantasy hotel. Like, someone went into my brain and asked "what would Erin want in a hotel?" and came up with something like an updated, intimate, less violent version of Kubrick's Overlook. The lobby, pictured below in black & white and teased last week in color, just *glows* in this sleek, timeless, welcoming way. It's an art deco oasis just off of Times Square and I was disappointed only that I had to leave. (And that I couldn't spend more time in the shower. Best shower ever. Rainfall surrounded by darkness and sparkles. Seriously.)
Each room has a copy of The Great Gatsby, that's how wonderful this place is.
Suffice it to say, I had a lovely mini-holiday.
Also, the entire trip may have counted as flavor research for my next book. Possibly.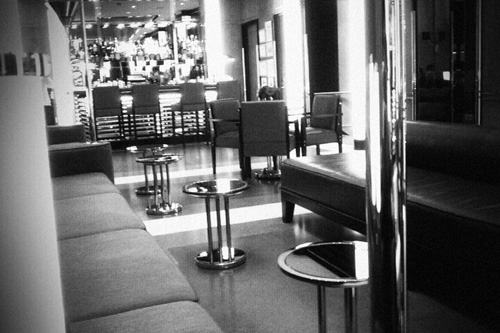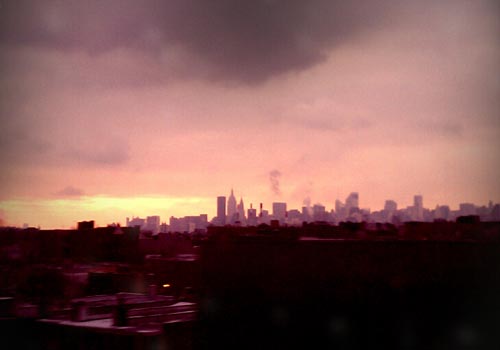 As you may have noticed, I was in NYC for the past few days.
I met my agent and my editor in person for the first time. They are, in fact, actual people and not just lovely disembodied telephone voices.
I drank a lot of wine with my sister. I got snowed on in Times Square. I met the resident kitty at the Algonquin.
I generally felt like I'd wandered into someone else's life.
It's going to take awhile for this to fit on me properly. Like breaking in new boots.
And then last night, while I was on the train back to Boston, my Google alerts kind of exploded with the Summit film option announcement.
I'm thrilled about it, of course. It's not helping that whole endeavoring to become more of a believer thing, though. Every time I think this whole journey might get less surreal eventually, things like this happen and I'm reduced to blinky-eyed deer in headlights mode and I say "yay" a lot, because I'm articulate like that.
Oh, and since some of the announcements have mentioned it as such, I should probably clarify that The Night Circus is not a young adult novel. It will probably have a lot of appeal for teenage readers & fans of YA, but it is indeed an adult-market book.
Home now, with kittens who claim not to have missed me. Fluffy little liars.