I had my first professional tarot reading in I can't even tell you how long this morning.
I've been playing e-mail tag with Anya Weber about the progress of the Phantomwise Tarot for awhile now, and I mentioned that I'd love to get a reading from her at some point. She was in Salem today so she came by to read for me and get stared at by kittens.
I read for myself fairly frequently but I'm not often read for by others so it was kind of new and exciting and familiar all at the same time. We spent awhile discussing different decks before we started the actual reading, she'd brought three with her and we ended up using the World Spirit Tarot. It's a really lovely, vibrant deck which I'd heard of but not seen in person before. Totally added it to my wishlist.
Anya has a wonderful system where she creates a custom spread tailored to the querent. Mine was perfect, I'd wanted some clarification on this whole publishing thing and how things sort of tied together and she came up with a very clear, concise spread that still left a lot up for interpretation. And she wrote it out all color-coded for me to keep and take notes on! I'm a sucker for diagrams and I tend to be a visual thinker, so I thought that was brilliant.
This was my spread, slightly adjusted to add a clarifying card. I took a picture for posterity: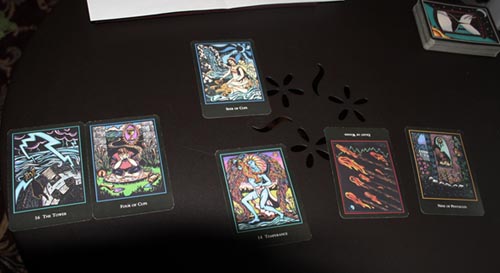 I won't bore you with details of each card position and meaning, but I will mention that the Tower showed up in a position where it wasn't really that bad, more confirming suspicions I've had for awhile. Really, that's one of the things that was wonderful about this reading: it crystallized a lot of things that had been floating around in my head already and they feel more solid now.
Anya has a great quote on her flyer that says:
Instead of "telling the future," I use tarot to clarify the present. Tarot cards are fantastic sources of insight into just about any life question. They illuminate what's going on right now, and also shed light on where you're heading, so that you can change course as needed.
Which is precisely what this reading did for me. Though happily it seems my course doesn't need much changing.
And Anya herself is lovely and personable and explains things in a wonderfully straightforward way. Her reading style is creative and intuitive, and she even gave me new ideas about reading reversals, which I usually tend to avoid. It was a very comfortable, enjoyable experience and I look forward to having her read for me again. If you're in the Boston area and looking for clarity and insight I highly recommend her.
Check out her blog for more information: http://tarotsolutions.blogspot.com/