I am attempting to be patient while I wait to hear back on manuscripts out with agents. Emphasis on attempt. I polished my nails! They're now a lovely grey violet and harder to bite.
So, while I try to be zen like my iGoogle TeaHouse Fox, I am attempting to ease my brain out of the story that is now out in the world and back to the one that is sitting in bits and pieces in Scrivener.
It's easier than I had expected, shifting gears from one story into another. I re-read everything I had written so far for this one, took some notes, scribbled down snatches of dialogue and ideas for scenes. It has more shape than I'd thought it did, which I think is helpful. But I'd say the draft is only half done. It's about 55k at the moment, most of that done for NaNoWriMo '08 and a large percentage of that needs massive overhaul.
I like being back at this stage of the game. Figuring things out, putting pieces together. It's more exploratory. More of an adventure.
Things that are helping take my head out of the circus and into my cat-infested subterranean library include:
Sia's album Colour the Small One, which I listened to a lot while I was originally writing. Especially the "Breathe Me" remixes. The circus doesn't have a particular album that it feels like, but the library feels like this.
This painting that I stumbled upon by accident, looking for something else. A Place of Her Own, by James C. Christensen: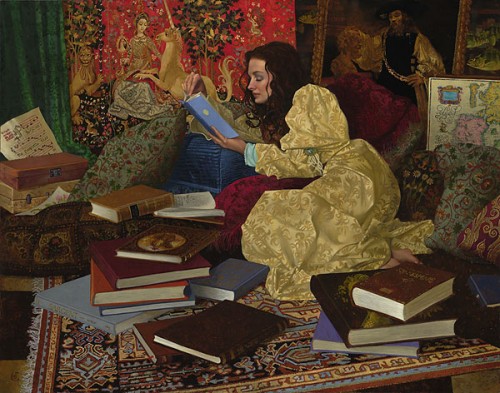 And I keep finding quotes that resonate for this one, which is unusual for me:
Obsessed by a fairy tale, we spend our lives searching for a magic door and a lost kingdom of peace.

– Eugene O'Neill
But when the self speaks to the self, who is speaking?—the entombed soul, the spirit driven in, in, in to the central catacomb; the self that took the veil and left the world—a coward perhaps, yet somehow beautiful, as it flits with its lantern restlessly up and down the dark corridors.

– Virginia Woolf
It's like going back to a familiar country after a long absence. Should be an interesting place to spend the next few months. Hoping to have a full draft by the end of the summer. We'll see where things go from here…