I took a very quick trip down to NYC because the audiobook of THE NIGHT CIRCUS is being recorded this week. I almost didn't since I am crazy busy with moving things but I am thrilled that I did because it was marvelous.
I will admit I have not heard more than snippets of the Harry Potter audiobooks so my "that would be fabulous" response to "how would you feel about Jim Dale doing the audio version?" was mostly based on his narration from Pushing Daisies, I knew he had that wonderful classic storyteller voice. It was absolutely marvelous to get to meet him and everyone working on the recording and everyone was simply delightful.
Jim Dale & me: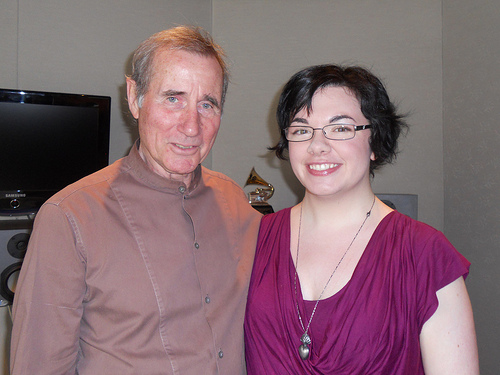 There are more pictures over here of various adorable smiling people in the studio courtesy of the lovelies at Random House Audio.
Here's a sneak peak (sneak listen?) at page one:
I was not there for that particular bit but I did get to hear from around page 97 to page 113, which was a rather good range of characters and voices. I thought beforehand that it was going to sound more strange to my ears than it did, it ended up being this wonderful amalgamation of the way it sounds in my head with its own distinct sound layered over top and the result is delightful. Jim truly has the perfect storyteller voice and I couldn't be more pleased.
The audio version will be available in September when the book comes out, and I'm sure it will be absolutely magical.