I don't know what to say about 2011.
This year was too full to be easily condensed into a December 31st blog post.
Everything looks different than it did this time last year, and only partially because I have new contact lenses.
I have a new life, in so many new ways.
I'm still adjusting.
Only one star in my hair this year. That's as much as I can handle at the moment, though I also have the moon around my neck.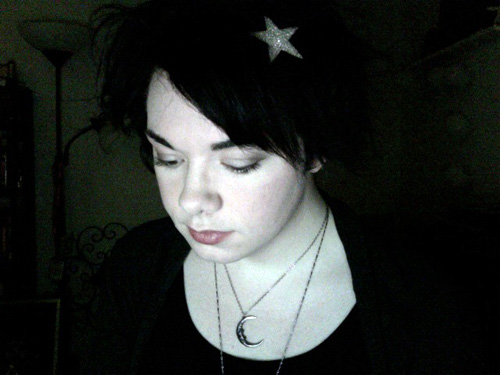 (I suppose now I have some sort of tradition of New Year's Eve webcam photos in which I don't look at the camera.)
I thought a lot about what the song of the year was, but in the end there wasn't any competition.
It was an almost-ten-minute-long song kind of year. An angel kissin' on a sinner kind of year.
A frightened trapeze swinger kind of year.
Apparently safety nets are overrated.
So, hello, 2012. I hear you're supposed to be the end of the world.
Strange how endings feel so much like beginnings.