Hello! I am in Nashville! It is rainy here but otherwise lovely and I am very much looking forward to my event at the library tonight especially since it is called a Salon and that just sounds fancy.
My events in Cincinnati (technically near Cincinnati) and Lexington, Kentucky were both fantastic, thanks so much to everyone who came out for them and to all the lovely booksellers at both Joseph Beth locations.
Also, thanks to absolutely lovely people who came to my Lexington event last night I now have chocolate shaped like Kentucky and also ponies! I don't think I've ever had state-shaped chocolate before. I apologize that Kentucky is upside-down in this photo, I was trying to get the label oriented properly.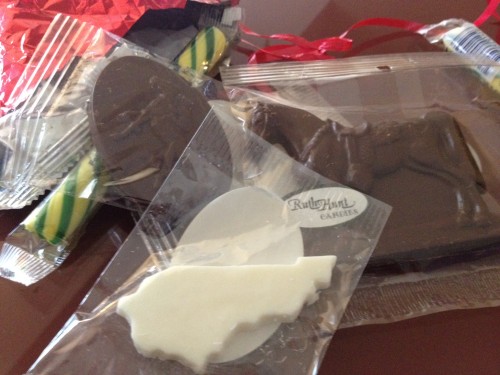 I am sure it will be very tasty.
I am incapable of deep thought or poignant tour recounting as everything is mostly a blur of people and hotel rooms and interviews and perfectly placed pops of red amongst the black & white. It is dizzying in a good way, and I am still both baffled and humbled that so many people are interested in listening to me babble.