Spent last weekend at New York Comic Con, which was only my second Comic Con experience after San Diego in 2011, and it somehow managed to be calmer and yet just as overwhelming.
Friday we wandered up and down the floor and sort of stared at everything. One thing that seems to be a staple of Comic Cons, there's so much to look at. We saw some fantastic costumes and caught up with my friend Eric at the Quirk booth and while we pawed through a great many boxes we were unsuccessful in our quest for volume 4 of the deluxe Ex Machina, so the hunt continues. (We have 1-3 & 5! Why is 4 the elusive one?!)
Saturday was my signing and I was amazed how many people came by for it, I believe they cut off the line after 100 people because that's how many books we had to give away. Thank you to everyone who waited and put up with my circus tent stamping shenanigans. My apologies for anyone who wasn't able to make it or missed the line cut-off!
Afterwards we did one more little baby loop of the floor and got a Portal 2 t-shirt (combustible lemons!) and I made a friend and had to take him home with me.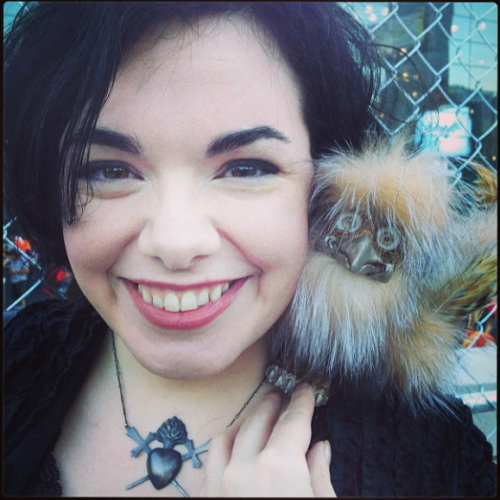 He's a puppet, his head moves up & down or side-to-side with a hidden cord. He's from Imaginarium Galleries, they had a fantastic booth covered with all sorts of marvelous creatures and of course I couldn't resist even though we were attempting to have a rule about no more creatures in the apartment. Ah well.
I was recovering from a head cold already, so of course I caught the con plague. It's almost entirely gone now, though I was asleep for a few days there.
Luckily I had enough time to recover because I am off to Texas tomorrow for One Book Odessa which sounds like it should be absolutely splendid. They've been up to circusy things all month and now there's a gala tomorrow evening (music! magicians! tarot reading! costumes! I still don't know what to wear!) and then I'm doing an onstage interview & signing on Friday. If you are in the area do please come, more information at all of the links.
Also, after this I will not be doing events for a very, very long time, because I have to write. Right now I have nothing public scheduled for the rest of this year and I'm trying not to schedule anything for next year, either. I need the hibernation time. I'm sorry, I love to go see people and I'm getting really good at signing my name but I still haven't been able to focus the way I need to on new writing things. Still figuring this whole thing out as I go along.