I probably don't have to tell you all that November is National Novel Writing Month.
And you probably already know that The Night Circus started life as a tangent in a NaNoWriMo novel and was then further developed through subsequent NaNo-ing. (It very likely played a part in the circus itself being autumnal, since I was always writing in November. Also, autumn is my favorite.)
But unless you follow me on Twitter you may not know that this year I'm participating again, for the first time since 2009.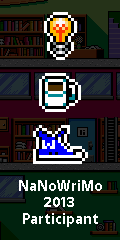 I am cheating. Oh wait, no, I am a "NaNo Rebel" which is a nicer word for cheater. One is supposed to start fresh and write a new novel and I'm not doing that. I'm working on not one but two projects, my already started novel-in-progress and a secret new something. My goal is to get 50k of shiny new words written between the two of them before the end of the month.
This is the most I've been writing in bulk in awhile, for a number of reasons, and it's weird to get back into it. I am already failing at one of my old standard NaNo practices of getting a head start. I would always try to bulk up my word count on day one or two so I'd have that extra buffer of comfy words but I've been staying more or less right on pace through this first week, I only managed to pull a teeny bit ahead of daily average today.
I'm mostly working on the new thing, to get my brain into non-editor, no self-criticizing, just-keep-writing NaNo mode and so far it seems to be working. I've come up with several bits that are not completely terrible in amongst the stuff that is completely terrible but led to the not so bad stuff. (And one particular thing which is so delightful that I am far too pleased with myself and pretty much assures that I will try to turn this into something salvageable someday if only for that one fantastic thing that should really live out in the world and not just in the demented part of my brain that it sprang from.)
Here's the part of the post where I show off my little wordcount widget:
And here is where I link to NaNo-related things.
This is the official NaNoWriMo site.
This is my official NaNoWriMo Pep Talk. It includes my best advice and tips and a tangent about a taxidermied marmot.
This is a post I did with other links and informative NaNo-related things last year.
This is a quote from that post, regarding people inevitably saying and posting disparaging things about NaNoWriMo that I think deserves to be restated:
I cannot fathom disparaging anything that encourages storytelling.
Get into the nuances of the issues or problems with it all you want, and I will be first to say don't dare start contacting literary agents on December 1st, but disparaging the entire endeavor makes me growly. Grr.
And this is an Instagram photo of me and NaNoWriMo founder Chris Baty.
flax-golden tales have been pre-written and prescheduled for the month (the one from the first of the month is, of course, for all the NaNo-ers), in-between blog posts will likely be photo heavy or NaNo progress updates.
This is, by the way, the tenth anniversary of my very first NaNoWriMo. I failed that year. Didn't fail the next year. I feel pretty good about this one so far, but it's only the 7th. We shall see.