While I've been in revisionland I've been silently bemoaning how messy my writing process is. I'm not sure what I expect would be better, or less messy, but it seems to tend toward chaotic. I have handwritten notes scrawled sideways on paper in two different colors of pen. I have snatches of dialogue scrawled in between. I have a Scrivener file open with bits of potential new scenes written in no particular order and odd bits highlighted so I know where I need changes. I have a hard copy of the current manuscript that I've started to mark up with purple gel pen.
It's messy.
But when I was working on the bastet postcard (already sold!) yesterday, I realized my art process is just as messy, particularly toward the end stages.
This is a picture of my workbench, taken right after I finished: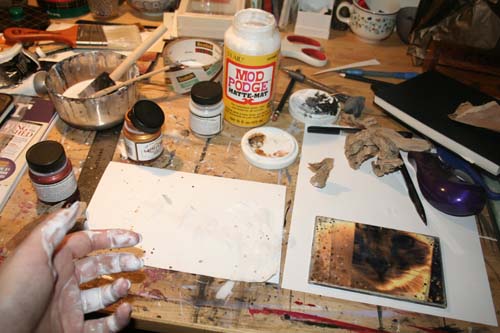 There are several things in this photo that I didn't even end up using (the gold metallic worked better than the copper, for example) and yes that's my hand covered in Mod Podge. There was an incident. I promise my camera hand was clean. Comparatively.
So I thought, looking at this mess, why should I expect my writing process to be different? Just because it's words and not paint doesn't mean the process is all that different, I make writing/painting analogies all the time. Of course my writing process is going to involve weird notes and seemingly disorganized bits and pieces. Clearly, I am the type of artist that needs to put paint I'm not going to use on the table and get my hands dirty.
I used to have this complex about working messy with my art. I thought all the paint should actually end up on the painting and not on the table, on me, occasionally on the cats. I got over that somewhere around the time I started splattering things. It's difficult to splatter things and keep paint properly contained. But I liked the finished product, I liked the way it looked and it's become something of a signature technique now.
Time to apply the same train of thought to writing, methinks. At least writing messily doesn't involve as much cleanup.