I still have so much tour stuff to catch up on and dozens of photos to share but at this point I suspect it will be easier to do a recap when I'm home for a decent amount of time.
I went on the shortest trip to London ever on Friday (got in Friday morning, left Saturday morning) to go to the Galaxy Book Awards and wear a sparkly dress and lose the International Author of the Year award to Jennifer Egan (I was rooting for Murakami, myself) and I am still rather baffled and honored that I was included in such esteemed company.
I had an all too brief stay at the St. Pancras Rennaissance Hotel, where the UK launch party I have not yet had time to blog about was held in October. (It's also the former Midland Grand Hotel, which is featured in The Night Circus.) My room overlooked the adjoining train station. I took the rubber duck from my bathroom home with me. Apologies if I was not supposed to steal him, but how could I not?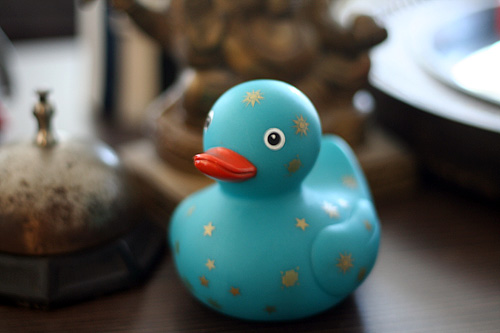 He has stars! I love him. And for some reason I did not have a rubber duck, which seems like something everyone should have.
In other news, I hear tell my NaNoWriMo pep talk went out to all you daring NaNo-ers, hurrah! I hope you are properly pepped and inspired and not hitting that week-in "why am I doing this again?" stage now that the initial rush is starting to wear off. I am waving little black & white striped flags of encouragement for you! (The full pep talk is over here if anyone who didn't get the email or simply isn't NaNo-ing would like to read it.)
Tomorrow I am off to D.C. for an event at Politics & Prose! Also, I am behind on replying to pretty much anything that requires replying to, but relatively soon I will be off the touring carousel and hopefully I'll be able to catch back up with my life.